AHN Teachers Reveal Their Favorite Keepsakes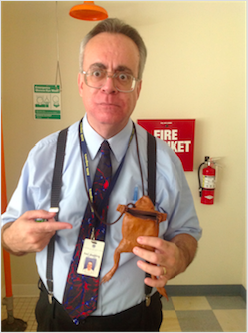 Have you ever been curious about why your favorite teacher religiously drinks out of a Bruins mug or keeps a collection of rocks in their office? Now, AHN's teachers are revealing what mementos they keep on their desk, and the surprising stories behind them.
Mr. Paul Sloshberg
Biology teacher Paul Sloshberg confesses his favorite objects are his "cursed" bear and frog purse. His beloved frog purse, a gift from a current senior, is his favorite.
"It is just interesting that they can make an animal into that, and it's a PURSE!" Mr. Sloshberg exclaims. Should you spot a small brown bear statue, however, do NOT touch it. "It's probably cursed," warns Sloshberg. "I never touch it."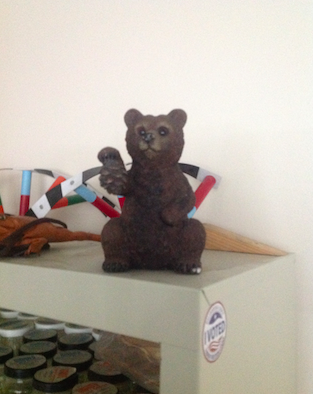 Principal Stephanie Nitchals
AHN's newest addition, Stephanie Nitchals, appreciates the view of Bayshore more than any object in her office. "Its nice to be able to look outside when something difficult is going on," she adds "It is very calming."
Our new principal also admires a cross which she revealed belonged to Sister Ann. When she came and found the cross in her office, Nitchals decided to keep it as a reminder of the strong roots faith has in AHN.
Mrs. Jamie Meyer
Theology teacher Jamie Meyer's favorite objects are the students at Academy. When asked what her most valued object in her room was, she replied, "Your fingerprints, of course!"
Every class, from 2017 to 2020, have put their fingerprints on a canvas in her room. They are also customized with a theme she feels embodies the grade. "They are so important because they show nobody has the same fingerprints. God made you an individual nobody could ever fill your space" Meyer explains.
Ms. Carole Anderson
For English teacher Carole Anderson, her office decor is an ode to her favorite memories. Besides the many pictures adorning the walls around her desk, Anderson shares that several of her favorite objects are from her past hobbies. "This plaque," she shared, "is signed by my students. They gave it to me after one of my performances when I was a thespian."
Something else students may not know about Anderson: she was a Cheer coach in Miami, FL before coming to Academy.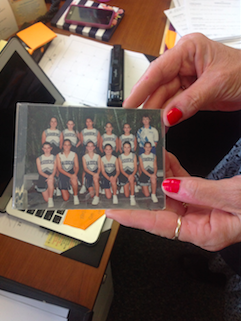 Next time you spot a small bear statue or a funny family picture on your favorite teacher's desk, ask them about it. From the animal accessories to the beautiful Bayshore, the teachers have definitely proven that, despite the rumors, they really do have more to talk about than just quadratic equations and literary terms!
i still think its so weird when i see teachers in public, as if they have no lives outside of school

— lil' moo (@marissalong2) October 8, 2013