Class of 2017 Honors Slain Gorilla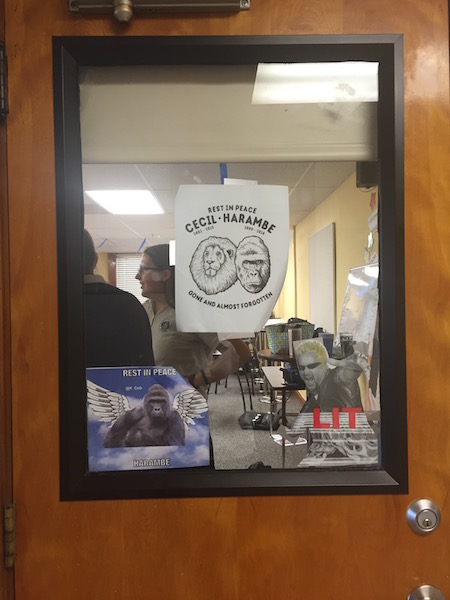 On May 28 2016 another animal tragedy struck the nation when a child fell into a gorilla's habitat. The 17 year old gorilla, named Harambe, was shot to protect the life of the four year old boy that fell into his enclosure. This incident enraged animal rights activists and much of the general public. The Cincinnati Zoo staff claims they could not use tranquilizers because of Harambe's massive size. The animal rights community was quick to blame both the mother and the Cincinnati Zoo. Critics argue that the mother should have been keeping a closer eye on her son. They also state that there never should have been a way for the boy to get into the gorilla's enclosure.
Senior Liz Benjamin cannot help but agree with the critics passionately stating, "The mom should have kept a better eye on her child. Maybe if she would have taken more parenting classes our beloved Harambe would still be alive."
Since the incident  Harambe has been trending on all social media platforms. His face has been attached to numerous t-shirts and he has been the star of many youtube parody music videos, not to mention the thousands of Harambe memes that have surfaced. Academy seniors have joined in on the trend especially in the senior lounge. The walls are plastered with Harambe memes, some of which include olympian Michael Phelps and president, Barack Obama. As a result of the news coverage and social media obsession Harambe has become a household name.
The senior class has chosen to honor Harambe in several ways. One example is by singing his name at least twice a week and blaring the variety of Harambe mashups. The Class of 2017 also plans on purchasing a large stuffed gorilla for their lounge to complement the many Harambe memes. Lastly, Harambe will appear on the Senior class shirt. He will not be the only fallen animal on their shirt. Harambe will be accompanied by Cecil the Lion and Pinky the Flamingo, both of which died as a result of animal cruelty.
These tragedies raised a lot of support for animal rights movement. The class of 2017 is spreading awareness of animal cruelty in the Academy community.
Allison Wehle explains, "Our class has a passion for animal injustice. Animal cruelty is a big issue and it is often overlooked. As a class we want to take a stand."
By honoring these slain animals more people learn about the evils of animal cruelty. Many animals die of animal cruelty everyday; Harambe's movement, although it is a funny one, is helping spread awareness so less of these tragic incidents occur.