New Clubs Come to AHN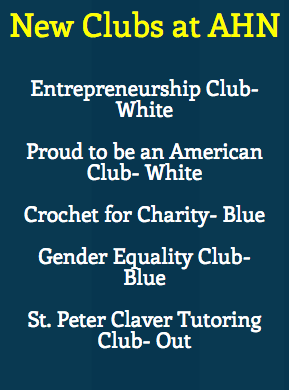 Clubs at AHN give students the opportunity to explore their passions and ideas and encourages students to get involved in their passions by offering a variety of clubs. They range from service-based clubs, such as Key Club or Faith Children's Home, to clubs that concentrate on customs and traditions in cultures, like the Spanish club. Clubs are separated into groups by color: Gold, which meet every Tuesday or Thursday, White, which meet on the first and third Thursday of every month, and Blue, which meet on the second and forth Thursday of every month. This year, AHN is offering five new clubs that students will be able to join:
Entrepreneurship Club (White)– This new club is offered for students interested in pursuing a career in entrepreneurship. Throughout the year, members will attend assemblies held by entrepreneurs and will participate in entrepreneurial competitions.
Proud to be an American Club (White)– After participating in different programs and learning more about veterans in the U.S., founders Riley Gillis and Laney Rodriguez decided to bring patriotism and awareness of veterans to Academy.
"I always look forward to seeing them [veterans] all year, so when it ended I decided I needed another way to work with veterans and do something for them," explains Gillis.
Rodriguez and Gillis plan on making the school more patriotic and adopt at least one veteran or active military member. Members of this club will get to know veterans personally and learn so much from them.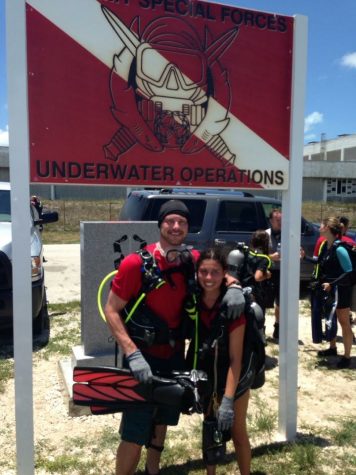 Crochet for Charity (Blue)– This club gives students who enjoy arts and crafts the opportunity to learn how to crochet while providing service to others. Founder and moderator, Mrs. Darlene Lanfranconi, decided to form the club because she has passion for crocheting and wanted to bring some service to AHN. This year, members of the club plan on crocheting and donating blankets for premature babies in hospitals.
As well as being a great way to give back to the community, Lanfranconi says, "It is a fun skill to learn and a great stress reliever!"
Gender Equality Club (Blue)– The goal of this club is "to raise awareness of gender issues and encourages women to be involved in philanthropic activities benefiting other women."
St. Peter Claver Tutoring Club (Out)– Founders Katie Quackenbush and Naomi Youakim decided to form this club after tutoring for the students of St. Peter Claver Catholic School every Tuesday during the 2015-2016 school year.
"We just really grew to love them and care for them. So we decided to turn it into a club so more people could go and help the children because we saw how much need there was," stated Youakim. Members of the club will go to St. Peter Claver to tutor students once a week.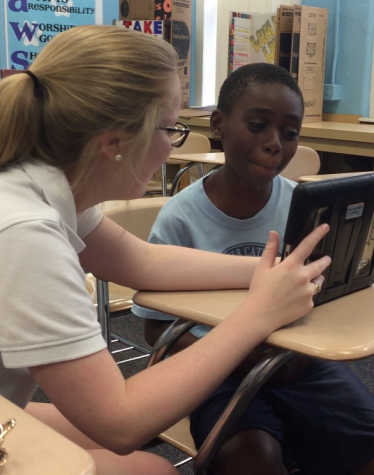 Not only do clubs give students the chance to pursue their passion and interests, but it also allows them to branch out and meet other girls in other grades.
Club sign ups are Monday, August 29.