Three Tips for Being An Academy Freshman
Walking into Academy the first day of school; new hallways, new teachers, new classmates, questions flood your mind. For those still navigating the Academy hallways, here are some tips to start high school on the right foot.
Branching Out
Branching out and meeting freshman classmates is a great way to create new friendships.
Sophomore Feraby Hoffman advises, "Branch out from your middle school friends by sitting at a different lunch table and talking to girls you don't know in your classes."
As intimidating as talking to someone you are unfamiliar with may seem, you could be creating a life-long friendship.
Alumni Sherrie Ligori, Academy class of 1989, reminisces, "Freshman year was both an exciting and nerve racking time, it's only natural to cling to the people who are most familiar to you. It's funny as the years go by, that you've maintained true friendships, you will even remember exactly how and when you met at Academy. When you go on to college the process starts all over again however the bond that you have formed at AHN with your true friends will stay strong in your hearts."
Don't limit who you become friends with, although every cliche high school movie discourages talking to upperclassmen, at Academy we are all friends and seniority isn't going to stop that. Getting involved in a club or a sport creates an opportunity to meet not only new girls in your class but upperclassmen as well.
Junior, Alyssa LoSauro explains how she met her best friends and got asked to homecoming freshman year.
 2.  Workload
When it comes to classes and workload, high school is a whole different ball game. Teachers will not be holding your hand through every assignment, you will need to become more independent and responsible for getting your work done on time. Junior, Alessandria Ligori, believes that it is very important to keep a planner and use it every day. Every freshman at Academy has taken the entrance exam which does its best to place you in the right classes but if you feel that a class is too easy or too hard, don't hesitate to make a meeting with high school counselor, Darcy Dwyer. Starting freshman year, it's a great idea to get involved with a sport to build strong relationships with your Academy sisters, but finding a balance between school work and sports is always tough. Sophomore, Myah Rhines, suggests that her biggest tip for freshman year is making sure you use your study hall wisely so that you never have to worry about studying last minute or staying up late, especially if you are involved in any extracurricular activities or sports.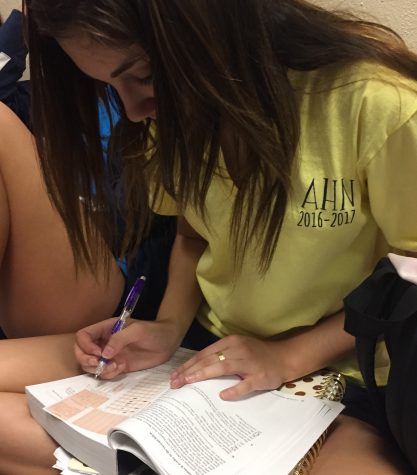 Enjoy
One of the most fun aspects of high school is enjoying social events with your current friends and the new ones you will meet along the way. Christmas Formal is Academy's yearly traditional dance where, instead of being asked by a boy, the girls do the asking. The most enjoyable part is getting ready with girlfriends, taking cute pictures and kicking it on the dance floor! It is important to enjoy these events while you can because four years passes by in the blink of an eye and you don't want to regret not taking these moments to bond with your sisters.
https://www.instagram.com/p/_fHFwPJgil/?taken-by=alexa__traviesa
Being the new kids on the block, getting to know your 400 new sisters and balancing a new workload may seem intimidating but know that all your upper class sisters have been in your position and have got your back.