Academy Horror Story: Senior Pictures
Year after year, Academy's Seniors take their last student photo looking as beautiful as ever. Their pictures are worth a thousand words, the last four years of their high school career, the many tests and quizzes they had to study for night after night, and the friendships they have made on the way. However, they do not show the struggles leading up to this point, and this year's Senior Class of 2017 have some from their Senior Pictures.  
Lindsay Calka –

BROWsing For Hope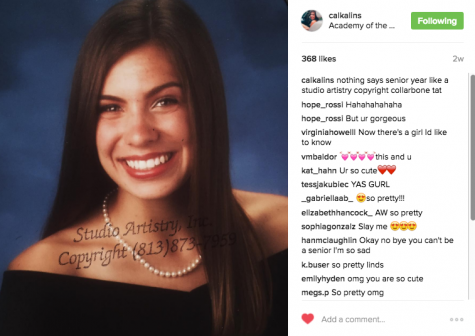 "I got my eyebrows waxed the evening before my pictures cause ya know eyebrows have to be on FLEEK… It was SO painful while I was getting them done- more painful than usual. I was basically screaming every time she pulled off the paper but my sister was with me so we were laughing and such, the beautician was even laughing at how pathetic my pain tolerance was. The pain continued for the rest of night- the 'fire' feeling never went away, but I chalked it up to the wax. well it turns out my skin was literally waxed off. I take acne medication and it's a big no to get your eyebrows waxed BUT NOBODY TOLD me! So my horror story is having raw eyelids for my senior photos. My sister works wonders with makeup so you can't tell but still – kind of a nightmare."
Riley Rubio –

Rain…check. 🙁
"I had my senior pictures on a Saturday, so I woke up and went to get my hair done and then did my makeup. The day was going perfectly…until the moment I arrived at Studio Artistry. As I pull up, I look outside the window and it starts pouring rain. I was hoping that it would pass but it just got worse. I knew I would have to suffer through the hurricane in order to be at my appointment on time. I then went to look for the umbrella that is always in the car but I couldn't find it! The only other things in the car were my outfits for the photo shoot! I was getting so worried but then my dad offered his raincoat. I buried myself in my dad's raincoat and ran straight inside. Luckily I made it in alive, with only a little bit of frizzed hair. So, moral of the story…always have an umbrella.
Laura Henry –

A SUPPORTIVE Mother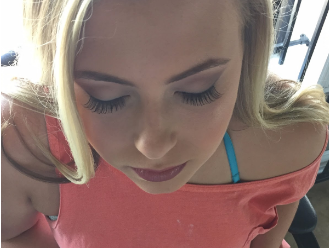 "I was getting my makeup and hair done by a family friend who has a salon in Wesley Chapel, which is about an hour away from my house. We had timed the appointment time perfectly, so I would just go from her house to Studio Artistry. But not even five minutes after I sat in the chair, I realized that I forgot a to bring strapless bra and was wearing a neon blue sports bra. So my mom had to drive to a nearby store as I was getting my hair and makeup done to get one. She ended up buying three bras just to make sure it fit right."
Sophia Bahr –

Waitlist Worries
"Yikes. I called to reschedule my date for my Senior pictures and they proceeded to tell me they are booked solid. BOOKED SOLID. I am now on the waitlist but not to worry I am guaranteed a spot before the deadline. Fingers crossed."
Olivia Stevens –

A HAIRy Situation

"Even though my hair didn't cooperate, I did have a great photoshoot!" Photo Credit: Studio Artistry, Inc.
"I went to this salon in the mall (first mistake) to get my hair done and I wanted it blown out to make it look all nice and pretty and flowy (I should have gone to my regular girl, I'm an idiot). So I step in and there is a guy about to do my hair! (I should have turned away so fast). So he sets my wet hair in curlers and then underestimates how thick my hair is and my hair does not dry in the curlers! So, he's blowing it out and it's literally so big and poofy and not cute, AND THE UNDERSIDE OF MY HAIR IS STILL WET — LIKE WHO DOES THAT? So we leave and I walk about two steps out of there, and I look at my mom and she just sighs and says, "I know".  
We go to another salon in the same mall and the ladies there are so nice, and I'm like, "Girl, can you just flatten my entire hair so it's perfectly straight,"  and she's like, "Girl I got you."  She did and it turned out so nice.