Annual Freshman Dance Returns to Jesuit
Each year, the annual freshman dance takes place at Jesuit High School after one of the first home football games of the season. Even though this dance is intended for freshman, some upperclassman enjoy attending to relive the awkward moments of freshmen year.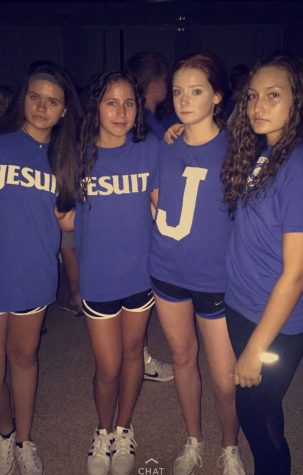 Following the game, people headed over to the Jesuit cafeteria to wait in the long line for the dance. There is an entry fee of five dollars for students, unless they are attending with a Jesuit student.  As attendees walked in, there were not many students around except for a few of the different friend groups from the freshman class. As more students piled in, people from all different grades started to storm the dance floor and act crazy in front of all the freshman.
Senior Bella Guerra recalls her favorite part of the evening being the music because the DJ played all her favorite songs. Guerra adds that she didn't feel awkward at the dance because everyone was younger than her. She recalls freshman year when her and friends walked into the dance, feeling awkward around the upperclassman since they were intimidating.  
Guerra states, "I had a great time dancing crazy with the cheerleaders, but we only stayed for five minutes  because we wanted milkshakes from Steak and Shake."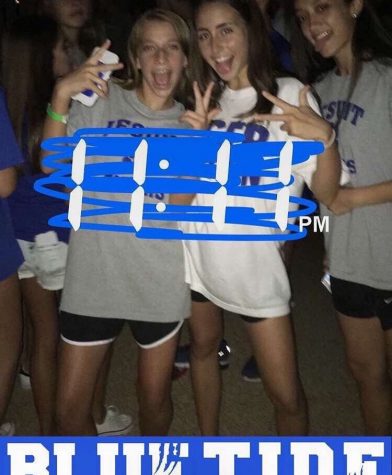 Junior Mackenzie Holmes headed straight to the dance following the football game. Holmes thought that if you entered the dance with a guy, the entry fee would be free, but surprisingly Holmes had to pay still. The first thing the junior noticed were people just standing around in groups talking and not dancing, which she felt was awkward. Holmes couldn't blame the people not dancing, because she believed the music was not dancing material.  Since it was not very enjoyable, Holmes left within fifteen minutes and decided she would not attend next year.
Holmes remarks, "My favorite part of the night was how the cafeteria was air conditioned, that made me happy."
Freshman Georgia Ruffolo comments on how she had a great time at the dance and how she enjoyed seeing all her friends she didn't see for a while. Ruffalo attended the dance with a friend from Jesuit, meaning she did not have to pay. Despite the belief of some,  Ruffalo felt the dance wasn't awkward for her and her friends. She enjoyed the music and can't wait to attend the dance next year.
The freshman dance at Jesuit is a must go for the freshman since they get to meet new people. It is also a must go for upperclassman because it reminds of them of old times and makes them feel nostalgic about their old awkward past.