Pure Project and Yogurtology Team Up to Help Haiti
On Friday, September 16, many Academy students flocked to Yogurtology to get some tasty dessert while also helping a good cause, the Pure Project. The Pure Project is a nonprofit organization that was founded by AHN Seniors Meredith Butler and Ashley Achin as well as Sammy Daley, an Academy sister who left after last year. It was founded to raise money for Biosand filters that will help get people in Haiti clean water. 
Achin comments, "I had the original idea of purchasing filtering straws, and the company has evolved since that time."
This project was started because the three girls have an intense passion for finding a solution to this issue.
Help improve the lives of Haitians by giving them access to clean water now at https://t.co/2l0pGyV0Dd. #DIRTYWATERSUCKS #HAITI

— The Pure Project (@pureprojectinc) February 23, 2016
Butler states, "We saw the need, and, as young adults, knew we needed to do something."
The girls used the Yogurtology night as a fundraising event for their project. They encouraged both students and staff to come buy a yogurt, and 20% of the proceeds went to the Pure Project.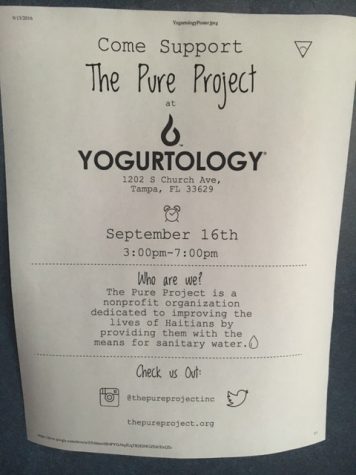 The Pure Project had previously done a fundraiser at PDQ, however, the girls found that they made the double the money at Yogurtoltogy. In addition, they liked the staff much better at Yogurtology, because they were nicer and more supportive of their project.
Butler comments, "We will definitely be doing more fundraisers there! I think it was a great experience for everyone involved."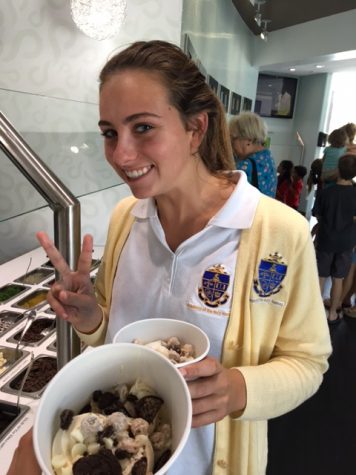 The Pure Project will continue to perform various fundraisers throughout the year to raise more money. They will not stop until people in Haiti consistently get clean water.