Senior Class '17 Contemplate Boycotting Jesuit's Homecoming Court
Jesuit's homecoming court is an traditional event that AHN girls run for every year. A queen is chosen from the senior class by Jesuit, but this year the '17 seniors want to have the opportunity to choose their own queen.
Danielle Gutierrez '17 was originally in favor of a total boycott of the entire homecoming court process.
She comments, "I've always thought the Jesuit kids take our school for granted, and I didn't really want ignorant Jesuit boys to have authority to judge a group of my classmates."
However, after a recommendation from fellow Senior Anna Padron, she changed her mind.
She explains, "Anna Padron thought of a cool idea of having each homeroom elect a girl who wants to run, so that it's more regulated than some shallow vote based on looks."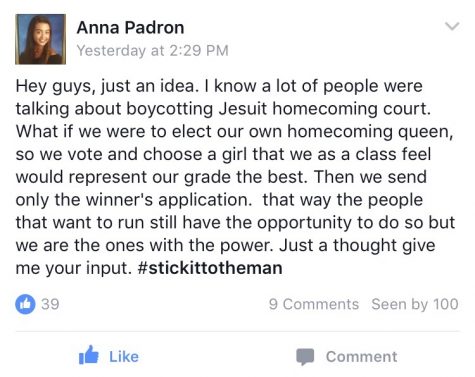 In order to run for queen, the girls must first pick up an application from Mrs. Krukar and fill it out with their information, extra curricular activities, and what they have done for Jesuit. Then once they have all applied, the girls running have to take a group picture, which is sent to Jesuit with their applications. Only the top six girls are chosen for homecoming court. All girls running for queen must attend one waltz class a week in order to prepare for the homecoming court dance. On October 7, the homecoming game takes place and that is where the queen is announced.
Kate Scanlan '17 claims, "I like the idea of wanting to shove it in Jesuit's face that this is not a pageant and that we have control over homecoming court not just them."
However, not all of the senior class agrees with the boycott of homecoming court. The few girls that are running want to run because they want to follow their mother's legacy or the simple fact that they want to be queen.
Karianne Buser '17 is running for queen and wants to leave the election process as it is.
"It's more fun when we have a group of five of our seniors to do court with, and it's fun to represent Jesuit as I'm affiliated with Jesuit as cheer captain." She remarks, "It's a tradition I think girls enjoy every year and I'm excited to be with my sisters this year doing it."