Juniors Create Team Hope: Working to Cure Huntington's Disease
October 22, 2018
Each year, 30,000 Americans suffer from Huntington's Disease; however this issue is not widely known. Juniors Renee Rinderle ('20) and Grace Costantini ('20) are attempting to change that by bringing awareness and action to the Academy community. Together they have started a new club named Team Hope.
"Team Hope's purpose is to inform teenagers about HD, as well as encourage them to raise awareness. With hard work, time and dedication, I believe this generation can find a cure," says Rinderle.
Huntington's disease (HD) is a fatal genetic disorder that causes the progressive breakdown of nerve cells in the brain. It deteriorates one's physical and mental states and limits their abilities to complete tasks of everyday life. As of today, there is no cure.
"
I believe this generation can find a cure,"
— Renee Rinderle
The two juniors decided to create the club after meeting with someone who was personally affected by the disease. The more information they learned, the more they wanted to help.
"I met a woman whose family was affected by HD at a Key Club event. She talked to us about the various struggles her and her family faced because of the disease. However, she then began to thank the [Huntington's Disease Society of America] for all they have done. She kept repeating how happy and grateful she was. Her story immediately sparked my interest for the cause. The organization is able to touch lives of so many people. By being a part of this team, I can help them touch more lives by raising awareness," says Rinderle.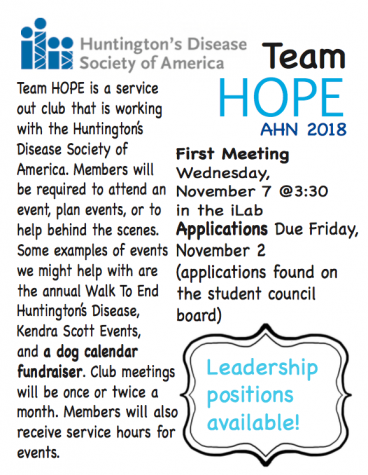 The Academy club works together with the Huntington's Disease Society of America. Activities and projects that Team Hope participates in does not stay within Academy's walls. Work done will affect the organization's Tampa community.
"Renee and I will be organizing and attending various events that the organization hosts, as well as creating our own events related to the disease. We want to create fundraising opportunities and promote the organization in any way possible. This is because we feel that not many, especially girls at Academy, know about it. We believe that by bringing this awareness to our school, it would not only promote the issue, but bring peers together for this amazing cause," says Costantini.
Rinderle and Costantini will act as the Team Hope's co-presidents. The girls have been friends since freshman year and have been working closely together for Team Hope since the start of the school year. 
"Renee and I grew close freshman year. Over the years, our friendship has grown due to our similar personalities and our want to create new things. We both have a passion for helping others and improving the world around us. I think that personality trait we share is the reason why Team Hope started. We both want to fight for the cure," says Costantini.
The juniors are currently looking for members who are dedicated and are willing to participate for the cause.
"Team Hope will be a great way to spread awareness and use our creativity to help as much as we possibly can. We have some new and interesting things planned, and we're so excited to find fun ways to help and most importantly find a cure," says Rinderle.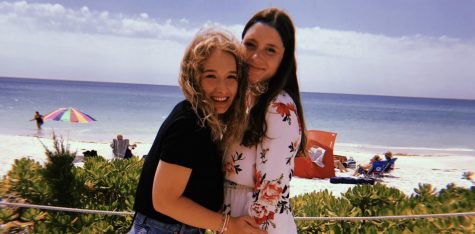 The club is open for all grade levels and currently consists of 25 members. The moderator is Chemistry Teacher Dr. Carson Dobrin. Leadership positions are still available for the 2018-2019 school year.
"If you become a part of Team Hope, you would attend and plan various events with the organization. We want creative people who are able to come up with new ideas and work hard to raise awareness," says Costantini.
Forms are due to Dobrin on Friday, Nov. 2. For questions email [email protected] or [email protected]