How Much Time Do Academy Girls Spend On Their Phones?
January 22, 2019
With Apple, Facebook, and Instagram's "Screen Time" features, many are beginning to realize the amount of time they spend on their iphones.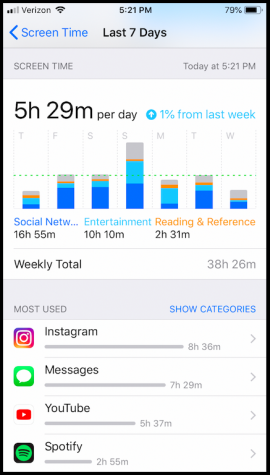 "When I actually checked my Screen Time app I was alarmed. I had no idea I was using my phone that much. It really is concerning," says Renee Rinderle ('20).
Apple Screen Time gives users both a daily and weekly report of how often they use their phones, check their phones, and how much time is spent on every app. Screen Time also allows users to set daily reminders or limits for certain apps or devices.
Instagram and Facebook both have "Your daily activity." The networks reports a daily average, as well as a daily  and weekly update for time spent. Like Apple Screen Time, your daily activities allows you to set daily limits.
According to the Washington Post, teens spend nearly nine hours on average using electronics daily. Children between the ages of 8 and 12 spend about six hours per day.
This raises the question, how much time do teens and young adults truly spend on phones? What effect is that having?
Hannah Traud ('20) feels young adults spend an unhealthy amount of time of their phones.
"I think technology is having a negative influence on society. People are becoming too dependent on something that won't exist forever," says Traud.
Emara Saez ('21) believes although electronics have drawbacks, are a positive tool used in modern society.
"I think technology has had a positive impact on our lives because it's never been easier to access knowledge, communicate with others, and learn about different places in the world. However, I think there are some consequences. People tend to forget to look up from their phones," says Saez.

Loading ...
Some are calling Apple Screen Time inaccurate. Apps such as "Spotify," "Google Maps," or any other navigation and music apps are factored into Screen Time as well.
"That makes me angry and also really annoys me. I do not think things like that should be considered screen time. If I'm using my phone to listen to music or to get home, I am not physically looking at the screen. It shouldn't be put into my average," says Maya Harrell ('20).
According to Time, 54% of teens think they spend too much time on their smartphones. Many at Academy feel the need to limit their time on electronics.  
"I see Screen Time as a challenge for myself. Every week I'll see it and then I try to limit my usage. Personally, I try to get my time down whenever I can, but I feel like people our age are not going to take it that seriously. We're all still going to be on our phones no matter what. Nothing will change," says Harrell.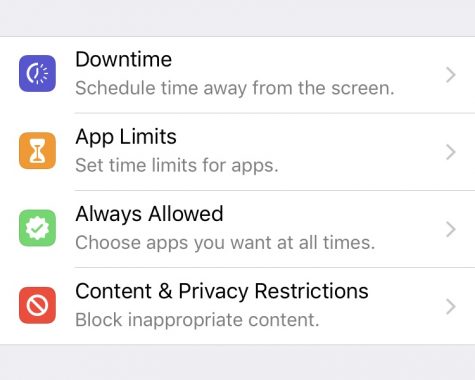 What can you do to limit Screen Time?
Utilize the tools apple gives to limit time on the phone such as Downtime and App Limits. Downtime allows users to set times where they are unable to access their phones. App Limits allows users set a daily timer for selected apps.
Leave your phone on do not disturb when possible. It will be less tempting to pick up your phone when it's silent.
Turn off unnecessary notifications. You will be less likely to check Instagram or Twitter with notifications are turned off.
Make technology free zones. Stop using electronics in your bed or at the dinner table.
Leave your phone at home whenever you can. If you don't have your phone, you can't use it!