AHN Introduces Three New Mission Trips
This year Academy came out with three new mission trips for the high school class. The three trips were the Florida Panhandle, Baton Rouge, Louisiana, and San Juan, Texas.
A lot of people on the Panhandle mission trip helped people recover from Hurricane Michael and helped rebuild their houses. A lot of the students who participated in the mission trip felt like they grew a lot closer to God.
Audrey Barnes ('21) stated, "On the trip, we went to many peoples' houses and helped them with yard work and just little things that they needed. We pretty much did whatever they asked of us. I thought I was going to be bored and not really wanting to do a bunch of work all day every day, but once I got there, I actually enjoyed doing yard work and doing hard work, for example, we had to tear down a whole fence which took a lot of us and a lot of strength. I never thought that I would find joy in doing hard work like that. Every day I looked forward to seeing who we would be helping next, and who we would bring hope to that day. My personal favorite person we helped was a man named Mike, he was so nice and so grateful that we helped him clean his entire yard. When we told him we were Catholic he got so excited and screamed, "I'm Catholic!" It was great to be able to pray with him and share something in common with those we helped. My favorite part was seeing the smile on the faces of the people we helped and hearing that we brought them hope again after all that has happened. To hear that, was probably the best feeling I will ever experience having."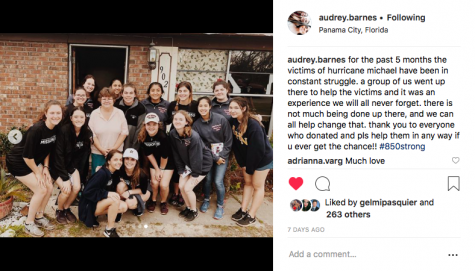 Rachael Petrarca ('21) said, "Throughout the week we would drive to different work sites which were normally houses and we would assist people in cleaning up their homes, yards, etc. At a couple of places, we were there simply to provide emotional support and to show that there were people out there who cared. No matter where we went it was evident that our help was greatly needed and every person we met was extremely grateful and kind. I'm glad that the Academy will be sending another group back this summer because those communities still need a lot of assistance and they aren't getting any from our government."
On the Louisiana mission trip, the girls helped rebuild houses from the destruction from the flood that was two years ago in Baton Rouge. The flood ruined many peoples houses, who didn't have the money to rebuild. Some of the girls said that this experience helped them bond more with their fellow classmates and the opened themselves up more to God.
Riley Kayton ('19) commented, "In August of 2016, a flash flood happened in Baton Rouge, Louisiana, which resulted in 20-30 inches of rain being dumped on certain areas in just a matter of hours. Thousands of people were left stranded in their homes, unable to escape because the water had filled the streets, their cars, and their homes. My mission trip partnered with an organization called the Saint Bernard Project, whose mission is to help families, whose homes were impacted by a disaster, get back into their houses."
The San Juan, Texas mission trip is also a new mission trip that came to the Academy this year. The girls had bonded with one another and went out of their comfort zones. The got to help build houses for immigrants and played with their children in daycare.
Isabel Laboy ('19) said, " … we worked with migrants and their children coming into the States. We worked with children at a daycare center, fixed up two houses by putting new paint on it, and then we worked at the Respite center welcoming migrants who just came into the states. It really opened my eyes as to what they have done to get here and what goes into everything to become a legal citizen of the States."