Academy's annual Jag Jam
October 21, 2022
On Friday, October 21, Academy will once again host Trunk or Treat, also known as Jag Jam. The event will occur from 6-9 pm on the Bayshore side of the campus (parking lots, oak grove, and the Bayshore playground). This year, a new twist on the event may catch some students' attention. High school students may host a trunk and are able to volunteer at the event! 
Jag Jam is an Academy tradition at which students (PreK-8) are able to dress up as their favorite Halloween characters. In the past, parent volunteers decorated their trunks and passed out candy and other goodies. This year high school students have the opportunity to show off their Halloween spirit. Students may choose to host a trunk as a club, with friends, or even with their families. If not interested in hosting a trunk, feel free to order food from the food trucks that will be present at the event, or even go trunk or treating (click here to purchase tickets)!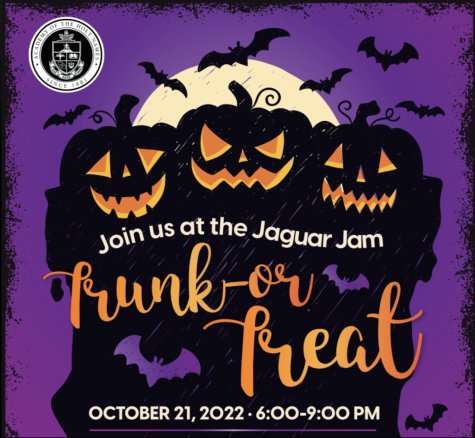 English teacher Angela Leavens said, "It is our annual Trunk or Treat, and we are offering students opportunities to host a trunk and have fun with friends. There are also volunteer opportunities in helping to clean up after the event. We wanted to give our high school students the opportunity to serve our school with the reward of having a dress-down day." 
Students who volunteer to clean up after the event may earn service hours. Volunteers helping to check people in must be at the event at 6 pm. Event clean-up will be from 8:45-10 pm, but try to be there at 8:30. High school students who are interested in volunteer opportunities or would like to learn more about where you can apply your service hours should email Mrs. Linker here. 
Sophomore Bela Browning said, "I like [Jag Jam] because it is a way to bring the AHN community together and it's a fun event for Halloween. As a high school student, I feel that I can now bring a new sense of creativity to the event."
Students who host a trunk individually, with a club, or with friends will all be able to earn a dress-down pass where they can wear a sweatshirt and jeans to school on a day of their choice. For a spooktacular fun time, click here to register to host a trunk. Also, be sure to check out FAQs for Trunks.
If you have any questions click here to help them be answered.