Seniors prepare for end of the year events
April 20, 2023
As the school year is coming to an end, excitement is high but stress is even higher. Some students are still deciding on a college while others are planning what decorations they will buy for the apartment they are sharing with their best friends. 
Currently, the seniors are partaking in Water Wars, a huge water gunfight among the advisories. They follow classmates to their jobs, practices, and family dinners, and even hide in the bushes outside their houses. 
Senior Lauren Brown says, "I have what could be my last high school lacrosse game ever tonight. It feels so surreal I feel like yesterday I was at freshman tryouts." 
A big tradition here at Academy is running through the halls on the seniors' last day. Another one is decorating their uniforms for what college they are going to. This year on April 28th, the senior class will wake up and come to school for "senior sunrise" wearing their decorated uniforms. During Advisory on the last day, all the high school students meet in the Brady Center for a "senior farewell" video. For the past month, the seniors have been sending in pictures from freshman year till now of memories they have with their friends. Following that, the whole high school and administration will line the halls for the seniors. They will start on the fourth floor and run through the third floor, to the second floor, then the first floor all the way across the bridge, and jump into the pool behind the gym.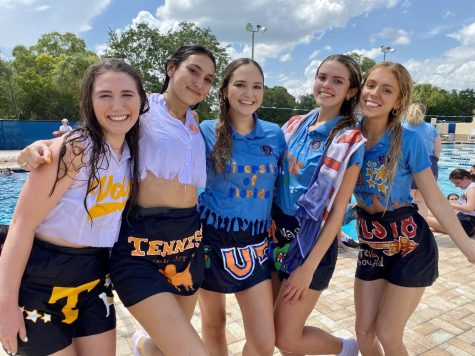 Senior Adele Politz says, "I am so excited to run through the halls and jump in the pool. I have been waiting for this since before freshman year even started. I can't wait to share this moment with all the friends I have made here." 
Even after the senior's last day, there are so many events they still get to participate in like Prom, Silver Coffee, Mother-Daughter brunch, and of course, Graduation.
This year's prom takes place on May 13th. Having prom after the senior's last day is a good way of staying connected to your classmates even after you have finished school. Since everyone starts to get busy with grad parties and planning for college, getting to come together one last time for a night with all your friends is very rewarding.
Silver Coffee is a brunch where the Academy seniors and moms get together to officially inaugurate the students as part of the alumni.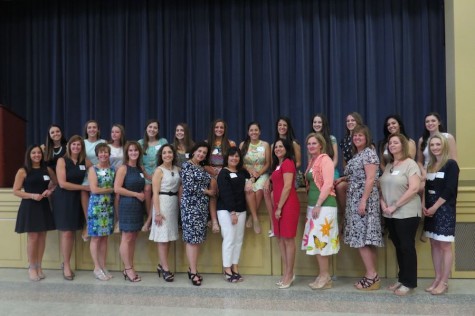 The mother-daughter brunch takes place at Christ the King and it is an exciting way for not only the students to see their friends again, but for the mothers to see friends and sometimes fellow alumni.
Graduation is obviously a huge deal and it is something everyone has worked very hard for the past 4 years. Senior Alana Young says, "Graduation is such a bitter-sweet moment. I have worked so hard to make it to this point but I am so excited to start a new chapter in my life. Even though I am gonna miss my friends I know I will make new ones along the way."