Students are always looking for ways to either get out of the house, workout, or hangout with their friends. CAMP Tampa is a gym located in South Tampa where a good population of students either work out in their free time with friends or attend for work. 
CAMP is not the average walk-in gym —it is a workout-class-based company. In order to participate in a class, students download the app or visit the website, then buy a class pass (or a few), and finally, sign up for the class of their choice. Over time, more and more students have begun to join the CAMP family, bringing their friends and family along too. This has created opportunities for students to better themselves while also having a good time.
Senior Tillie Gramata began working at camp over the summer in search of a job, and has fallen in love with the job and the workout classes ever since. She has made many work friends through CAMP, and has brought her friends and family along for the workouts as well. Gramata explains, "I first started working at CAMP the summer of my junior year and immediately felt at home. My mom, my sister and I take classes there every week while I'm not working. Not only have I created strong friendships with the front desk employees, but also have created connections with CAMPRS. My favorite part about this job is the ability to connect to a wide range of people and create new friendships."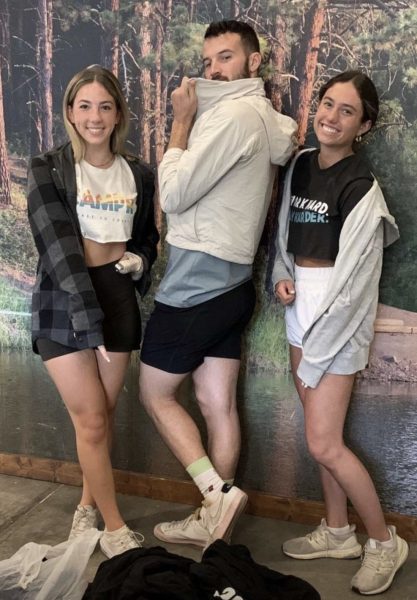 While some students collect income working out at CAMP, others go in their free time. Senior Megan Hyer started going with her friends just recently and has been going in order to keep in shape for her upcoming sports seasons. Hyer remarked, "I love going to CAMP because I go with my friends when we are all free and it is a fun and healthy way to get out of the house and to hang out with them. And sometimes we even get food after to reward ourselves!" 
Choosing a class at CAMP is like deciding what outfit to wear as there are so many. CAMP classes range from cycling, to hardcore sprints, to yoga and power pilates, to strength training in rooms up to 90 degree rooms. Senior Chloe Carson recently attended her first CAMP Class, stating, "My first CAMP experience was a great one! I took the 'Sculpt' Class, so the room was heated during my workout, pushing me to work extra hard. I would definitely do this again." Senior Isabelle Williams takes the yoga classes at CAMP as an opportunity to clear her mind of stress, claiming, "The yoga classes are insanely peaceful and are also amazing workouts because they heat the room, intensifying the yoga. I feel amazing leaving the studio every time, and the instructors are the sweetest and most encouraging workout family at the gym." Each class is unique in its own way — whether it's to hit upper body, lower body, or even have a recovery session, there is great variety. 
Besides the classes, there are many other ways to be involved at CAMP. They don't only host workouts at their South Tampa Campus, but they move all around the city, bringing in new members every day. The events add a twist to the average CAMP classes, making the workouts more extensive and complex. Senior Maleah Fraga also works at CAMP and has worked several events before. She states, "My favorite event was the 'CAMP Games' at Armature Works. Here, 'CAMPRS' compete in several different timed workout events and whoever is done the quickest wins. This was my favorite because there is a variety of things going on including popup shops, retail booths, and food trucks! It is a fun experience for everyone- even if you aren't working out."
View this post on Instagram
However, some students prefer to keep their workouts close to home- whether it is a personal stationary bike, an at home gym, or a walk through their neighborhood. Senior Emme Shoop explains, "I have a workout room in my house, so I'd rather not spend my money on classes when I have the equipment right in front of me. I also have two dogs so I take them for walks on a regular basis, and that is a workout within itself." Exercise comes in all different forms so it doesn't matter if it is at CAMP or if it's in the comfort of home. 
From calming yoga to intense sprinting, students thoroughly enjoy the variety CAMP presents. These girls and many others regularly attend CAMP as a place to work on themselves and achieve their personal goals, bringing them closer to their friends, family, and workout buddies in a happy, healthy way in a hardworking and uplifting environment.