Seventeen Year Old Latina Girl Mistaken for Trump Supporter
November 2, 2016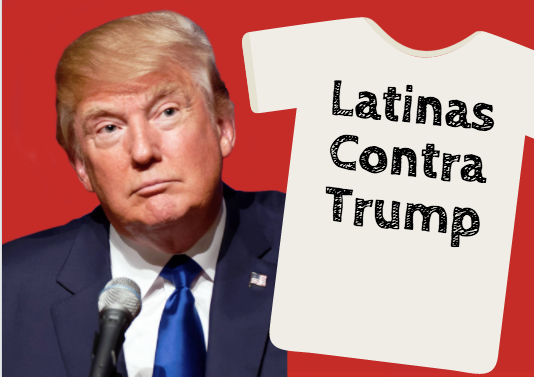 Latina sisters Annie and Ceci Cardelle live in Salisbury, North Carolina.
Eric Trump organized a rally in North Carolina on Friday October 21 and the sisters, who are Hillary supporters, decided they would attend in protest. Neither are particularly outspoken, and both were nervous about the backlash they could face if they decided to do something extreme. Younger sister Annie (17) decided to get a plain white t-shirt and write in sharpie "Latina contra Trump", which means "Latinas against Trump". She was sure people would know immediately what her shirt said, but upon arriving, she was shocked that almost no one seemed to recognize its meaning.
'Con' in Spanish means 'with', so it is possible people read the shirt fast and missed the last three letters, or perhaps most people in attendance had limited knowledge of the Spanish language, and since they knew 'con' means with, they assumed 'contra' was something positive along the same definition.  
Cardelle took pictures with supporters, and even Eric Trump.
No one at the rally realized my shirt said AGAINST tr*mp… congrats, y'all played yourselves ✌🏽️✌🏽️✌🏽️ pic.twitter.com/qZ3x1ER8j0

— AnaSofia (@anniecardelle) October 21, 2016
Their tweets went viral and the sisters received copious positive reinforcement and praise for their bravery.
https://twitter.com/_MelisandreM/status/790049692646244352
https://twitter.com/AveryHansen4/status/792081876580130816
https://twitter.com/joel_newport/status/789940510504935425
Cardelle was getting so much attention, she decided to create a website where she sells Latina contra Trump merchandise, including hats, tote bags, and shirts.
Latinas Contra Trump shirts 🌹https://t.co/kmPXPZk6J7

— AnaSofia (@anniecardelle) October 25, 2016
Some Trump supporters shamed Cardelle; however, for embarrassing Trump, and claim there is no reason anyone at the rally should have been responsible for knowing what 'contra' means.
Because an American doesn't know a SPANISH word, we're racists? It's NOT our native language.#hypocrisy

— Kimberly Reed 🇺🇸 (@KimiReed) October 25, 2016
These people were criticized by others claiming that understanding Spanish is not necessary to know what 'contra' means.
Are you unfamiliar with words such as contraband, contraindicated, contrary? It is a root word with a clear, concise meaning.

— Pinky Slivotitz™❄ (@ACreativeMuggle) October 23, 2016
Regardless of how people perceived the incident, Cardelle has generated significant buzz the campaign trail surrounding the campaign trail.