Queen Elizabeth II Has Passed Away
September 19, 2022
God save the Queen.
On September 8, 2022, Her Majesty Queen Elizabeth II passed away peacefully at the Balmoral Castle in Scotland.
The Queen died peacefully at Balmoral this afternoon.

The King and The Queen Consort will remain at Balmoral this evening and will return to London tomorrow. pic.twitter.com/VfxpXro22W

— The Royal Family (@RoyalFamily) September 8, 2022
Earlier in the day, the world watched closely when it was announced that the Queen was placed on health supervision over concerns for her wellness. 
Other members of the royal family urgently headed to Scotland to stay by the Queen's bedside.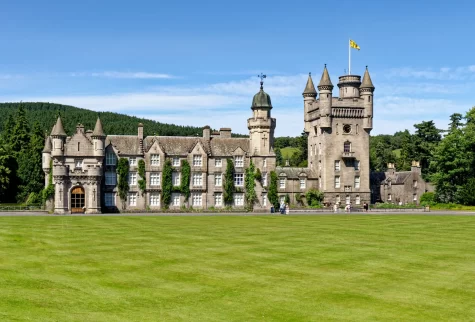 Sadly, later that day Buckingham Palace announced that Queen Elizabeth II had died at age 96. 
The news came as a surprise to most, leaving the world in shock.
"I was in AP Lang when one of my friends saw an article about Queen Elizabeth's death. My whole class was shocked, we couldn't believe she had really passed," said Amanda Stephens ('24).
Earlier this year in February, the Queen celebrated her 70 years of reigning over the United Kingdom with her Platinum Jubilee. 70 years is the longest that any monarch has reigned over the United Kingdom–most people in the kingdom haven't lived with a ruler other than the Queen.
"The Queen's reign spanned a dramatic series of changes in our world, and it is pretty incredible to think about the world as it was when she became Queen after World War II and the world as it is today," says AP Government teacher Stacy Filocco.
Around the world, people are mourning the loss of the Queen, a key figurehead in the international scene since she ascended to the throne in 2022. 
The British monarchy rules over the United Kingdom–that is, Britain, Scotland, Wales, and Northern Ireland– along with serving as the head of 14 other Commonwealth realms, including but not limited to Australia, Belize, Canada, and Jamaica.
Now, Prince Charles is now officially King Charles III, with his wife Camilla becoming the queen consort. The United Kingdom's national anthem has also been changed from "God Save the Queen" to "God Save the King."
For now, the official period of royal mourning has begun and will continue until seven days after the Queen's funeral. In the coming week, a state funeral will be held at Westminster Abbey in London. A final service will then be held at St. George's Cathedral, before the Queen is buried at Windsor Castle next to her late husband, Prince Philip, who passed away in April 2021.
"The world has definitely lost a powerhouse, she stood for much more than the Queen of England. She set the precedent for world leaders for decades. Even though I don't agree with a lot of the practices she went with during her rule, overall she was a symbol of how great a leader can be and a role model to women around the world," said Riley Rubio ('23).