Keep the Rays in Tampa Bay!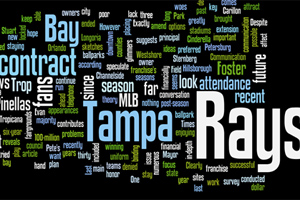 Despite enjoying winning seasons and three post-season appearances since their "Cinderella season" in 2008, the Tampa Bay Rays continue to deal with poor attendance problems. Last season, the Rays ended up having the worst attendance of all thirty MLB teams.
Some fans speculate that Tropicana Field itself contributes to the franchise's financial woes. Over the past few years, numerous ideas and sketches of possible new stadiums have brought glimmers of hope for the Rays, but nothing has been successful so far.
Some proposed sites have included Carillon Park in Pinellas County, Channelside in downtown Tampa, Westshore in South Tampa, and the state fairgrounds. One theory suggests that placing a ballpark in Tampa would attract more fans from Orlando.
On the other hand, according to a recent telephone survey conducted by the Tampa Bay Times, Bay News 9 and AM 820 News Tampa Bay, the majority of fans from both Pinellas and Hillsborough counties preferred the Rays staying at the Trop.
However, the main problem seems to be the lack of communication between the Rays owners and St. Petersburg Mayor Bill Foster, who insists that the Rays play out their contract binding them to stay at the Trop until 2027. A recent MLB article reveals that Rays principal owner Stuart Sternberg "hasn't had an in-depth conversation with Foster since last year." Communication is key when it comes to trying to work out an issue which could greatly affect the bay area financially.
Clearly, the Rays want to plan for the future in the long run. They already locked up Evan Longoria with a six-year, $100-million dollar contract extension that could keep him in a Rays uniform until 2023. Should it be important for the Rays to honor their contract? Or should they be able to amend the contract and look into other options for ballparks (which they recently tried to do, but were denied by St. Pete's city council)?
Exactly how far should the franchise look ahead and focus on the future?