The sad lesson of Manti Te'o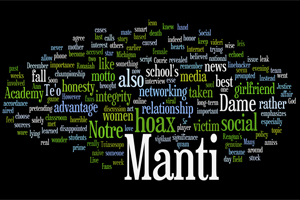 "You stuck to the script. And you knew something was amiss, Manti," Couric said to Notre Dame star linebacker, Manti Te'o, during their interview that aired earlier this week.
For the past few weeks, news sources have had a field day with the Notre Dame player, who has been a victim of a horrible hoax. Manti Te'o became involved in an online relationship with a female, whom he believed was not only real, but also his soul mate. However, during the long-term relationship, the two never met once. Instead, the love affair was based solely on phone calls and social networking.
It was not until after the hoax was revealed in December that Te'o learned that she was really a he and that Ronaiah Tuiasosopo was pretending to be his girlfriend. Soon, the story went viral, and the media accused Te'o of lying.  Fans of the Notre Dame, who wore leis to honor the death of his mother and girlfriend at the Michigan game last fall,  now feel disappointed in an icon who had brought the team to a national championship.  Many fans also wonder how Te'o could be so naive.
The leak has caused social networking to become a prime issue on the evening news and a topic of discussion around Academy.  Most students agree that it is important that no one like Te'o should be taken advantage of. On the other hand, the hoax has also prompted the importance of honesty, rather than trying to be someone whom you are not.
Our school's motto of esse quam videri, or "to be rather than to seem," emphasizes the significance of being genuine women of integrity. As echoed in Sr. Ann Reagan's Social Justice classroom, integrity is who we are and whom we choose to be.  Academy women act in accordance with the will of God and to keep the best interest of others in their hearts.
Do not be like Te'o and allow yourself to fall victim to an Internet hoax, or to be taken advantage of, especially with social media. Be smart, be wise, and be vigilant. Live up to our school's motto and remember that in all cases, honesty is indeed the best policy.