If the crown fits…
A tiara, a bouquet of roses, a beautiful dress, and having the honor of being selected to represent Jesuit High School as their Homecoming queen – not to mention a spotlight dance at the night of the Homecoming party. It can't get much better than that. Let's face it, being crowned Homecoming Queen is basically a dream come true for some Academy girls. But getting to the top is no easy task. Jesuit has it all planned out. To find the perfect Homecoming Queen, a full application process including a series of questions, an essay, a letter of recommendation, and a cute photo must be submitted to the Jesuit Student Government for review.
When it comes down to the ideal homecoming queen, Jesuit student council vice president, Greg Cox believes they must be able to portray Homecoming Queen academically and by how much they interact with Jesuit.
"What makes you a perfect candidate? How do you support or interact with Jesuit? Did you have any family that attended Jesuit or is currently a part of the Jesuit community? These are the types of ladies that we look for."
The young ladies must go through a series of elimination rounds until one is selected. After Student Council and their moderator, Mr. Nathan Stibrich, have read over the essays and application questions, the top ten candidates are announced. These ladies' pictures and essays are then displayed in the Jesuit common area for the entire school to see. The Jesuit student body votes for the top five candidates based on which pictures and essays they liked best. The last round of elimination singles out the top candidate. The Homecoming Queen is voted for by Jesuit Seniors only, and they announce the winner on the night of Homecoming Game.
Although some may believe that the vote is based solely on looks or popularity, Cox assures that Jesuit is in pursuit of a whole package deal.
"The essays are a big factor in the application process because it tells us how they feel about Jesuit and how much they're involved in our school."
Miranda Lopez, one of the top ten finalists for Queen, centered much of her essay around her family.
"[I basically said that] the men in my family have been attending Jesuit for several generations. The school has been a part of my life for a long time now. It would have been nice to have the opportunity to represent my family as Queen."
While the selection process is detailed and meticulous, it is not without its flaws. It is now down to the last five candidates. All of them cheerleaders except for Academy cross country runner, Claire Snyder. The candidates will be presented Wednesday, October 30 at the Homecoming Pep Rally, while the title of Queen will be named at Friday's game.
"I'm honestly just nervous about showing up in a different outfit than the cheerleaders", says Snyder, They can wear their uniforms, but I have to find a Blue Tide shirt for the pep rally."
Being that the top five candidates are involved in athletics and/or have boyfriends who attend Jesuit, it could be assumed that they are more well-known to the Class of 2014 and the Jesuit community as a whole.  So, how much does popularity come into play during the voting process?
"I think a lot of the voting is based on popularity. Girls who are more well-known in the Jesuit community are going to have more votes." says Lopez.
If this is indeed the case, would it not seem more logical to have a team effort for the homecoming voting process? Academy girls spend at least five days a week with each other, so it is safe to say we know each other fairly well (quite possibly more than the average Jesuit student). Understanding this, why not have Academy girls vote for Homecoming Queen as well?
"Even though I understand that Jesuit voting for Homecoming Queen has been a long time tradition, I think both schools should be able to vote. Just because it's Jesuit Homecoming, doesn't mean that we [Academy] shouldn't be able to have a voice. I think that we often forget that the Jesuit and Academy Class of 2014 are brothers and sisters. We're all peers and we need more ways to promote unity between our schools."
Senior Colleen McInerney thinks otherwise.
"I really don't think it matters how the Homecoming Queen is chosen." she says, It's a bias decision either way. It's always based on popularity and looks."
Whether we consider the process to be flawed or just tradition, fair or not, Jesuit and Academy should continue to strive and work together as brother and sister schools. A perfect way of exemplifying this is for everyone to attend and cheer for both the Jesuit Tigers and the announcement of Queen this Friday.
Leave a Comment
About the Contributor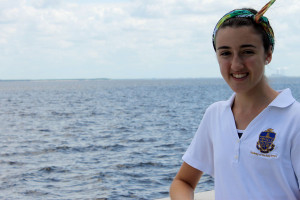 Gini Barreda, Features Editor
Although her strengths lie in writing and editing stories for Achona, she also specializes in Storify and photography. Gini is currently President of the...