Why We Should Talk About Race and Diversity in Private Schools (EDITORIAL)
February 23, 2021
America has a race problem. From the Black Lives Matter Protests of 2020 to the Asian-American hate crimes of 2021, minorities in America clearly have experienced exceptional emotional and political turmoil in the past few months. Despite the prevalence of these issues in the lives of minorities, discussions about race and diversity seem to be missing from professional spaces and predominantly white institutions.
In particular, private schools —whose racial composition of school enrollment is 68.6% white— as predominantly white institutions are notorious for avoiding difficult conversations about race. Race and diversity conversations seem to be missing from private school communities, and it is unclear why; what is clear is the damaging effects this has on both white and non-white students. 
At the Academy, conversations about diversity are led by the Justice, Equity, Diversity and Inclusivity Committee, also known as the JEDI Committee. This committee is comprised of  High School Social Studies Teacher Stacy Filocco, High School Performing Arts Teacher Nancy Mizzell, and Lower School Literature and Writing Teacher Julie Hughes in collaboration with AHN President Arthur Raimo.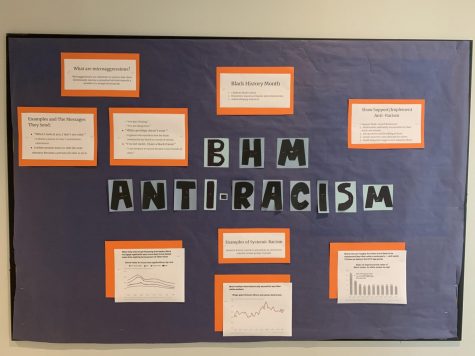 The committee works primarily behind the scenes through planning goals and objectives to be accomplished over a five-year period. Diversity has been an important part of the Academy's long-term plans, which can be seen through small changes to the curriculum like the English Department's efforts to diversify the literature read in class.  
"Every aspect of the school community has work that they can do to increase diversity, justice, equity, and inclusion within the school. What is really important is that we create a community where students of all backgrounds feel safe, celebrated, and have a fair chance at succeeding," said High School Social Studies Teacher Stacy Filocco.
While the work of the committee and individual changes within the departments are helpful, it is clear the Academy still has much to do to crystallize its message of acceptance and diversity. Trying to remain apolitical and address prevalent issues simultaneously is a struggle for many private institutions as they try to straddle the line between addressing racial issues and appeasing the emotions of the community.
View this post on Instagram
However, private schools need to take a defined stance on racial justice issues; trying to stay "neutral" only perpetuates confusion and makes the conversation reliant on emotionally charged language. The vagueness of the stances many private schools take hurts white students and non-white students while harming the emotional, intellectual, and social development of all students.
For those who may struggle to discuss diversity, that vagueness proves even more detrimental to the conversation; if you are uncertain about exactly what and why people want to discuss diversity in the first place, you may feel like your beliefs or stances are being attacked when the conversation is brought up. Of course, this is far from the truth, but it hurts the conversation to stay in the gray area of undefined terms and stances.
As educational institutions, schools aim to prepare students for the reality of the world outside of their safe private school bubbles. While there is only so much a school can do to prepare students, arguably one of the most important steps is taking measures to ensure the school's curriculum, staff, and topics of discussion reflect the diversity of the real world.
"It does matter if a curriculum is diverse; I think it should be because it encourages students to form their own beliefs and it is important for students to be educated culturally," said Meredith Nitchals ('21).
By shying away from exposing students to different cultures and perspectives, private schools are doing their white students a disservice by denying them the opportunity to engage in different perspectives in a safe space, rather than for the first time in the real world. It is never easy to talk about race, but educational institutions are especially equipped to tackle race conversations with their students and staff members. If private schools wish to prepare their students for an increasingly globalized world, it is their duty and responsibility to prepare their students to enter that world with basic knowledge, empathy, and awareness of the differences that empower racial and ethnic communities. 
Sometimes I wonder if I'm too aggressive about calling out racism.
But I was at a gathering this weekend where a aisan american girl who was maybe 9 was talking about the racial microagressions she gets in school.

We have to stop pretending like this doesn't happen.

— Rai@Full time Clown Hours (@raikamudapon) March 12, 2018
"It is important to discuss diversity so that we can create a more informed society," said Isabella Ruano ('21).
For non-white students, the disservice done by avoiding difficult conversations is even greater. Non-white students in private schools are delegated the responsibility of representing their minority group and teaching their white counterparts about race and ethnicity. It is not an easy task, and the constant pressure to represent an entire group often reduces the success and effectiveness of the conversations. In addition to this, the institution's refusal to take on responsibility for complex conversations takes a deep emotional toll on minority students.
"Unfortunately, a lot of the time the process that goes through my mind is that I should just say whatever is the most digestible to the majority of the people in the room. At school, and frankly in most places I'm in, that majority is white. I also think I get so wrapped up in needing to include everyone that I forget that it's ok to focus on a specific group of people if I believe what I say will help them. This happened when I was on the senior panel at the junior college retreat. I had so much whirling around in my mind about how the process is a little different for black students, and I had a lot of stuff that I'd learned that I thought would be helpful. I then remembered that the black students were the minority, as they always are, and decided to stay silent and focus on general topics instead," said Asha Sneed ('21).
Not only do they experience their white counterparts being actively sheltered from the conversations they, themselves, have likely been having since a young age, but they are also denied the opportunity to openly talk about their experiences. The combination of the ignorance of their classmates and the lack of safe spaces to discuss race and ethnicity can combine to create a hostile, unwelcoming environment for minority students; of course, this truth does not reflect the truth of all minorities, but it does highlight the prevailing issues that can occur when private schools refuse to openly discuss race, ethnicity, and diversity.
"As with most of the instances over my high school experience that I've avoided discussing race for the fear that I'd just end up upsetting someone, I regret my silence. It's hard not to care what others think when your opinion is not in the majority, and it's something I've battled with a lot these past four years," said Sneed.
they needa start teaching kids in elementary school about microagressions i can't believe I had to wait until COLLEGE to realize that the white kids calling my food "weird" in third grade should've been UNACCEPTABLE

— zeya (@BethanyZeya) June 6, 2020
This damaging approach creates an institution that prioritizes white feelings over non-white lived experiences, effectively silencing non-white students and subjecting them to microagressions that are especially prevalent in predominantly white environments. While it isn't necessarily the fault of the schools for the ignorance of their students in relation to race, it is their responsibility to address the root causes of that ignorance and educate their student body; while this is not an easy task, it is the work private schools need to undertake to address the systemic issue of racism within predominantly white institutions. 
"Inclusion is an issue that is going to affect students in their lives and it is so important that they start talking about it early so that they know how to approach conversations about it in the future," said Nitchals.
At the same time, there are several dangers in mishandling the prioritization of diversity. If done with the wrong intentions, prioritizing an appearance of diversity without doing the difficult work of educating the student body and staff is incredibly insidious. Schools who do this often fail to accurately represent their non-white students by tokenizing them across their website, events, and opportunities. 
This is damaging because the tokenization of minority students celebrates the good parts of diversity without acknowledging the more difficult conversations surrounding racism, xenophobia, and white privilege — effectively reducing the positive sides of showcasing diversity, while actively ignoring the true importance of diversity.
Being a BIPOC student at mhc feels like you're constantly fighting against a dominant culture that does not see a need for your existence past tokenism.

— HotgirlTaiwo (@urmomjean112) February 18, 2021
Clearly, there are a lot of pitfalls and complications associated with hosting conversations about race and diversity. Mistakes are typically made along the way, and it is a process that takes time to master. It is in those attempts that progress is made; if private schools refuse to take on this responsibility for fear of being mistaken, progress is effectively stifled. Progress is not a linear path, but it starts by acknowledging the responsibility that individuals and institutions have to address systemic injustices, racism, and prejudice within their circles.