English Department Diversifies its Curriculum
December 15, 2020
Throughout students' four years at the Academy, required reading is a central component of English classes. From Salinger to Shakespeare, many students' literary experience centers around what teachers require of them. 
However, a closer look at reading lists reveals that books read in class often do not reflect the Academy's student population. A recurring detail among these texts is that their authors are white men. Even work written by women is often that of white women, a group many Academy students do not fit into.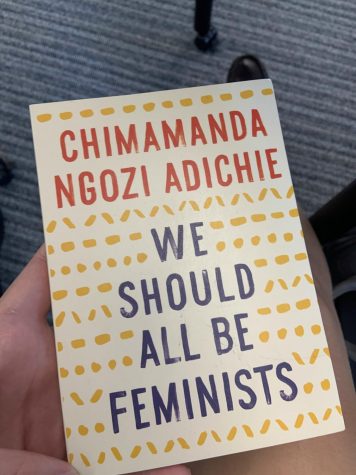 White men do not experience life in the same way young women do, especially young women of color. As such, the literature written by these men reflects their experiences and does not encapsulate the way Academy students see life. This is not an issue with their writing, but rather a reality of literature. White men cannot capture these experiences, and do not have to. Rather female authors and authors of colors need to be encouraged and implemented into curriculum to create educational experiences that serve a wider range of students.
"I don't feel as if I've seen myself represented in the books we read in class. As a Hispanic woman, it's really hard to relate to the mainly white characters in our required reading," said Ximena Sanchez ('23).
In part, this is due to setbacks faced by female authors and authors of colors that white male authors did not face during the era many classic books were published. Even the groups of these people who were educated enough to write a novel had difficulty being published. Some authors dealt with this issue by writing under pseudonyms, which lead to many authors going uncredited for long periods of time. Famous examples of this include "Jane Eyre" by Charlotte Brontë and "Wuthering Heights" by Emily Brontë.
"I think it's interesting to see how far women have come as authors from having to write under pseudonyms and hiding their identity from the public to now being able to show their faces as authors and being praised for it. It makes you think about some of the great authors of the past and if their authors were actually women behind the mask," said Julianne Bland ('21).
 The English department is seeking to rectify this issue in the upcoming semester and years at the Academy through a more diverse series of texts. They plan to do so by introducing more texts written by female authors and authors of color. Along with this, they plan to implement more texts that reflect students' lives by containing female protagonists and protagonists of color and their experiences. For example, Advanced Placement Literature students will be focusing on texts surrounding the immigrant experience during second semester and writing a research paper pulling from these different texts. 
English II classes will also be diversifying their lesson plans through the use of literature circles, where small groups of students will read diverse texts focused on different experiences and hold discussions surrounding them.
Actually no. I would like the canon to be opened up and include more diverse literature. Time makes a classic not a canon. How is the human experience exclusive? Exclusive to whom?

— Retained by a community college (@amygo254) June 4, 2020
This plan is not only to help students appreciate and learn about more diverse authors, but to increase student interest in required reading through more relatable stories. Students are capable of being interested in texts written by people unlike them, as shown by interest in reading from years passed. However, students also benefit from and enjoy texts written by people with lives more similar to theirs.
Academy's attempt to diversify their curriculum is not a commentary on the quality of literature written by white men. The literature written by these authors is well-written and complex. However, they are not the only well-written and complex pieces of literature out there. Far too often, women and authors of color are left out of discussions surrounding great or classic literature. 
By including these authors in the curriculum, an opportunity is provided for students to see themselves reflected in declared "great works" and for students to be encouraged to dive into writing themselves, inspired by seeing authors similar to them make achievements in the literary world. These plans are not steps towards erasing the work of white male authors, but rather a step towards a more inclusive education experience for young women and young women of color.