It's the dawn of a TV news show in 'Morning Glory'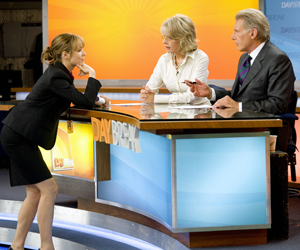 NEW YORK — You half expect Rachel McAdams, as newly hired TV-news producer Becky Fuller in "Morning Glory," opening Wednesday, to spin around on the sidewalk and throw her hat in the air, ala Mary Richards in "The Mary Tyler Moore Show." As it is, she does a little victory jump up and down on Sixth Avenue, near the headquarters of the fictional network IBS.
Things have changed, of course, since accidental feminist Mary Richards became associate producer of Minneapolis' WJM-TV news in the classic 1970s sitcom. Becky's morning show, "Daybreak," has to compete not only with broadcast rivals like "Today" and "Good Morning America" but with 24-hour cable and Internet bloggers. And as for the gruff but deep-down big-hearted mentor that Mary had in Lou Grant, Becky only gets Mike Pomeroy (Harrison Ford), who's just as gruff but deep down has a heart the size of the Grinch's. Which means, as with the Grinch, there's still hope for him.
"The major relationship in the film is clearly that of mentor-protegee, father-daughter, Harrison and Rachel," director Roger Michell ("Notting Hill") says by phone from London. While the movie appears to be marketed as a romantic comedy, and while Becky does pursue a relationship with a hard-news producer played by Patrick Wilson ("Watchmen"), the real romance in this movie is the romance of news.
For Pomeroy — a legendary news anchor whose contractual loophole has forced him onto the "Daybreak" desk alongside perky old pro Colleen Peck (Diane Keaton) — news means combat reporting, global economics and political corruption, not a tour of the latest roller coaster or a visit by a tiny-tot ballet troupe. Incensed at the turn of events, the dyspeptic Pomeroy turns passive-aggressive, becoming territorial in petty ways, disrespectful of Becky, unwilling to pursue human-interest stories and uninterested in being a team player to break hard news, as real-life morning shows sometimes do. It's hard to say what lessons this mentor has to teach her.
"Morning Glory" screenwriter Aline Brosh McKenna ("27 Dresses," "The Devil Wears Prada") did see firsthand, she says, that unlike in Pomeroy's hard-line view, morning-show news runs the gamut from fluff to tough. "I spent a little time with the morning shows" while researching her story, she says, "and it was a world I'd always thought was (primarily designed to be) entertaining. But the speed at which they have to switch from serious stories to lighter pieces — it's a clever and difficult thing to have to do."
The focus of the script may have shifted between McKenna's first and second drafts. Ford, she recalls, "was the first actor who came to the movie. He was cast after I'd written a first draft and then he was attached to the script as the process went forward. It was great writing that part, knowing he was going to play it and that he brings to it his dryness and his iconic value."
Director Michell says the star "was very, very taken by the first draft of the script. We nervously sent him the second draft, which had a lot of work done to it, and he rang me up the next day to say it was getter better and better." As many veteran actors do, he then brought his own experience to the table.
"They weren't seismic changes," says Michell. "Lines here and there, little pieces of business. When he decides to make the frittata (on air) at the end of the film" as a goodwill gesture toward Becky's efforts to save the struggling morning show, "it was his idea that he race off to the craft services table and steal ingredients and steal a piece of onion from the guy" holding a sandwich.
Ford also took it upon himself to keep Chris Matthews, Morley Safer and Bob Schieffer in stitches in a scene where Fuller comes across Pomeroy and those real-life newsmen at the tony 21 Club. "Harrison came in with a lot of jokes, so for every take he would tell some jokes and get them laughing and in the mood for the scene," Michell says. "We did about 12 takes, and Harrison gallantly told a different joke each time to get the guys laughing." Such as? "They're all unprintable jokes, with very rude subject matter," Michell adds mischievously.
So it's not a romantic comedy. But then, despite Mary Richards' occasional dates, neither was "The Mary Tyler Moore Show." Nor was the Holly Hunter-William Hurt movie "Broadcast News" (1987), written and directed by "Mary Tyler Moore" co-creator James L. Brooks — whom screenwriter McKenna cites among filmmakers who have been "huge influences" on her.
But if Pomeroy is no Lou Grant, Becky is no Mary Richards. She operates in a world where the glass ceiling has been raised several notches higher, and she can take charge and give orders with no trepidation, and without fear of being seen as "unladylike" — that's not even an issue. When she wants to spend the night with a man, she doesn't need flowers, romance or a dinner date first. She's a consenting adult who takes what she wants.
"The core of the movie is this woman getting to know herself and who she is and what she can accomplish in the job," McKenna says. "I wanted to show how work affects all areas of her life, and her ability to make her personal life successful as well."
Which, despite all the outward changes from the 1970s to now, is still a very Mary story. She might just make it after all.
———
(c) 2010, Newsday.
Visit Newsday online at http://www.newsday.com/.
Distributed by McClatchy-Tribune Information Services.
—————
MOVIE-MORNINGGLORY