'Potter' a film franchise like no other: Box-office wizardry nears its end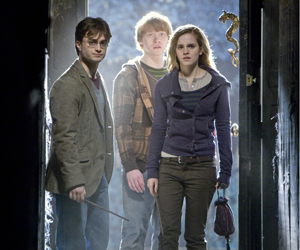 On a sticky June night just outside London, the magic finally came to an end for the cast and crew of the "Harry Potter" movies. After a decade together, the small army that has been the busiest in British filmmaking wrapped the final shoot of the last "Potter" production.
The green-screen scene featuring the now world-famous main characters — a trio of young fugitive wizards named Harry, Ron and Hermione — required actors Daniel Radcliffe,Rupert Grint and Emma Watson to hurl themselves onto some off-camera mats to escape danger at the Ministry of Magic. It was an oddly slapstick finish for such a monumental franchise — but that didn't sap the emotion of the moment.
"I admit it, I did cry like a little girl," Radcliffe said, recalling the day. "There was a feeling that I had, that we all had, that it was the end of something very special."
It's doubtful that pop culture will ever see a phenomenon quite like this sprawling tale that for a decade cast a spell on the page, the screen and beyond. The fantasy epic begins its Hollywood fade-out Nov. 19 with the release of "Harry Potter and the Deathly Hallows — Part 1" and finishes next summer with the eighth film, "Harry Potter and the Deathly Hallows — Part 2."
Both movies are poised to be global blockbusters — and may even earn the franchise its first nominations in marquee Academy Award categories — but the numbers posted by their predecessor films are extraordinary already.
The six Warner Bros. movies released to date have pulled in $5.7 billion at theaters worldwide; home video adds an additional $1.3 billion. The seven novels from which they sprang, written by J.K. Rowling, account for 400 million books sold in 69 languages.
Then there's the $7 billion in retail products, a recently opened amusement attraction in Orlando, touring exhibits of props and costumes and plans for a permanent exhibit outsideLondon.
Still, the true impact of the books and films may not be fully recognized for a decade or two. With ever-rising ticket prices, box-office records don't stand for long, but no franchise has delivered anything close to eight films in 10 years.
Producer David Heyman and his team were able to keep their cast intact — including the young lead stars who started as adolescents and grew into young adults with millions in the bank, and no scandals. The movies arrived even as the audience for Rowling's books grew, creating a unique synergistic effect. The "Potter" movies have earned Warner Bros. more than $1 billion in profit — and the admiration of industry rivals.
"The books and movies fed each other brilliantly to become these commercial tidal waves," said veteran literary agent Ron Bernstein, of International Creative Management, who has no connection to the books or films.
Former Walt Disney Studios Chairman Dick Cook, who launched his own mega-franchise with "Pirates of the Caribbean," agreed that "Harry Potter" has been a breed apart.
"It has unequivocally been the best-managed franchise that we've ever seen, top to bottom," he said. "The movies have been terrific and Warner Bros. managed to position each one as a worldwide event. Each movie has been unique and built on the last one and the anticipation has never been better. They've honored the source material and done everything right."
And, unlike, say, "The Lord of the Rings" trilogy, the "Potter" movies adapted a living, breathing literary sensation whose ending was unknown. Rowling would visit the set and sometimes whisper to actors hints of their characters' destiny, but screenwriter Steve Kloves, who penned seven of the eight scripts, said no one really knew how everything would conclude.
The entire exercise, he said, was a "10-year tightrope walk … and something that will never be done again for the simple reason that you won't see another Jo Rowling come along."
The rags-to-riches story of Rowling seems as unreal as the world of dragons and goblins she created. Joanne Kathleen Rowling ("J.K." was manufactured by a publishing executive who thought a gender-neutral author name might sell more books to boys) was a single mom in Edinburgh, getting by with the help of welfare, when she finished "Harry Potter and the Philosopher's Stone," her first novel.
In late 1997, a copy of the book found its way to Heyman's London office but ended up on a shelf for low-priority leads. A curious secretary took it home for the weekend. Her enthusiasm prompted Heyman to get past what he has called "that rubbish title," and the story captured his imagination.
"The funny thing is with all of the magic, all of the wizardry, what really makes the 'Harry Potter' stories work are the characters," he said. "The fantastical elements and the action are wonderful, but the characters are what people remember."
Heyman sent the book to his friend and fellow Brit Lionel Wigram, a production executive at Warner Bros., to gauge the studio's interest. Wigram said some in Burbankquestioned the viability of the creaky fantasy-adventure genre and viewed the tale of a magical boarding school called Hogwarts as too British for the American heartland.
"Don't spend too much on it," was the word from the home office, Wigram recalled.
Warner Bros. secured the rights for four "Harry Potter" novels for about $2 million. At that point, only the first book was on shelves in England and none had reached America.Warner Bros. tried to get a financial partner on the project, reaching out to studios including Steven Spielberg's DreamWorks, which passed.
Once the books became a sensation, greenlighting the first "Potter" film became a major priority at Warner Bros., where Alan Horn had recently taken over as president and Barry Meyer as chairman (replacing longtime studio chiefs Terry Semel and Bob Daly). DreamWorks circled back and proposed a partnership, but Horn wisely declined. There was one aspect of the DreamWorks talks that did intrigue him, however.
"I did think it would be worthwhile for Steven Spielberg to direct," said Horn, who offered it to the filmmaker. Spielberg, though, opted to take on Warner's 2001 sci-fi film "A.I.: Artificial Intelligence."
Chris Columbus, director of "Home Alone" and "Mrs. Doubtfire," was then tapped for the job. Initially, Rowling wasn't high on the idea.
"She did not know Chris Columbus' work and she had some trepidations," Horn said. "She thought perhaps it should be a British director." But after Columbus' first meeting with Rowling, during which they visited the coffee shop where she wrote part of the first book, she was convinced.
"We really hit it off," said Columbus, recalling they had similar tastes in books and agreed that "Revolver" was the best Beatles album. "She's got a wicked sense of humor and was youthful and hip."
Horn, however, was haunted by an interview he heard Rowling give in which she said she treasured the way readers used their imaginations to fill in the specific sights and sounds of the Potter universe. She worried that the studio might limit the magic.
"She expressed some ambivalence, even regret at having sold the motion picture rights," Horn said. "I made a little secret pledge in my mind to Ms. Rowling — and I had never met her at the time — that just as the books represented the very finest in literary quality and created this phenomenal classic, my job is to have you be proud of the cinematic interpretation of those works.
"I completely identified with her fears: 'Oh no, what are these movie people going to do?' And we discussed a lot of alternative ways to do this but the common thread was that whatever Hogwarts looked like, it would be of the highest-quality production … with the very best people we could find on the planet and we would consult with her every step of the way. "
Warner named Diane Nelson executive vice president for global brand management and her defining duty was to represent Rowling's interests, unify the studio approach to the brand and serve as quality control. The post made her, as one industry peer described it, "the midwife to the Potter success story."
Horn, who will step down next year just months before the last "Potter" film is released, has put Nelson in a similar but broader role with the DC Comics properties (among them Superman, Batman, Wonder Woman and Green Lantern) that are seen as lifeblood for Warner Bros. after "Potter."
"The approach to 'Harry Potter' and to Jo Rowling is the approach that is a template for how we move forward and, to the credit of Alan Horn, it's a template for other studios too," Nelson said.
All this is not to say that the ride for "Potter" in Hollywood has been entirely smooth. The sixth film was abruptly postponed for eight months, for instance, when Warner Bros. decided a summer release would be more profitable. Fans howled in protest.
And despite advertising that the seventh installment would be in 3-D, the studio changed its mind at the last minute after it became clear to Horn, Heyman and director David Yates that they'd have to sacrifice quality to get the conversion done on time.
"When people look back, they remember the smooth parts and the success," Nelson said. "But there were plenty of moments of anxiety."
There was intense debate about casting, too, in the early days. Watson was an instant lock for the brainy Hermione, but filling the title role was more daunting.
Heyman had met Daniel Radcliffe's parents at a play and encouraged them to bring their boy for an audition. Heyman championed the 10-year-old, but not everyone was convinced. Horn said there was a huge debate and another boy was "very, very close." Ultimately, it came down to four actors, including Tom Felton, who would end up portraying Potter's nemesis, Draco Malfoy.
"After (Rowling) saw the Daniel Radcliffe screen test," Columbus said, "she said, 'That's how I always imagined Harry Potter.'"
Radcliffe, now 21, spent half his life as the boy wizard and is eager to move on to new roles. In the spring, he will star in a new Broadway production of "How to Succeed in Business Without Really Trying" and his film projects include a remake of "All Quiet on the Western Front." Still, it's hard to say goodbye.
"It's weird to not have another 'Potter' film to work on," he said. "We know we won't have anything like this again. It's not something that happens twice in your life."
Why has "Potter" been so successful?
Ultimately, said Wigram, now a producer at Warner Bros., Harry Potter is "the greatest wish fulfillment" story ever told. "The genius of Jo Rowling was she grounded the wish fulfillment of a real kid who has magical powers in the context of the real world so it was incredibly believable and you enter the fantasy with her," he said.
It may prove premature, though, to talk about "Potter" in the past tense. Appearing recently on Oprah Winfrey's show, Rowling, 45, sounded as if she were softening her stance that she had closed the book on the wizard epic.
"I could definitely write an eighth, a ninth book," she mused. "I think I am done. But you never know."
———
(c) 2010, Los Angeles Times.
Visit the Los Angeles Times on the Internet at http://www.latimes.com/.
Distributed by McClatchy-Tribune Information Services.
—————
MOVIE-HARRYPOTTER
GRAPHIC (from MCT Graphics, 202-383-6064):
20101109 Harry Potter