Jennifer Hudson was 'honored' to pay tribute to Aretha Franklin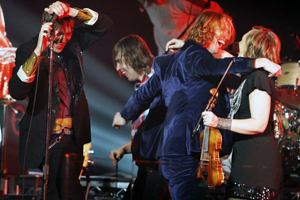 LOS ANGELES — Singer Jennifer Hudson said she and Florence Welch bonded big time during their part in the Grammy Awards show's salute to a common influence, the Queen of Soul, Aretha Franklin.
"I just love her energy," Hudson said of Welch after they'd rehearsed the career-spanning medley of Franklin signature songs on Thursday. "I love how much she loves music, and we just feed off each other — it's like a magnet."
As intimidating as it might seem for any singer to interpret the songs of one of pop music's great vocalists, Hudson said: "At the same time, it's an honor, and that outweighs the nerves. The fact that we get to do this — I just hope we reflect her in the best way. I got a call to do this and I said, 'Yay! I'll be there with bells on.'
"They asked us to submit a list of whatever song we'd like to sing, then they called back and said, 'OK, you're going to sing this,'" Hudson said. "I was like, 'Whatever, it doesn't matter. Anything, I would love to do it.'"
Franklin appeared Sunday night in a videotaped greeting to the audience at Staples Center and those watching the telecast, thanking fans for their get-well wishes during her recent hospital stay for surgery stemming from a still-undisclosed condition. But she said she hoped to attend next year's ceremony.
"There was absolutely no competition" among the tribute participants, who also included Christina Aguilera, Yolanda Adams and Martina McBride, Hudson said. "It was all celebration and honoring of Aretha Franklin. I'm just honored to be on stage with such amazing talent. I'm standing up there in awe. Wow."
———
(c) 2011, Los Angeles Times.
Visit the Los Angeles Times on the Internet at http://www.latimes.com/.
Distributed by McClatchy-Tribune Information Services.