The best night of their lives for Linkin Park concert fans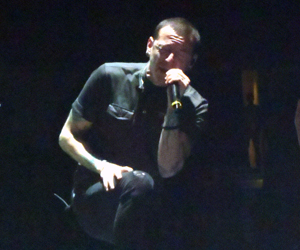 "This has been the best night of my life, hands down!"  An excited fan yells above the roaring crowd as he reaches for Chester Bennington, the lead singer of Linkin Park.
On a beautiful cool night on Saturday, January 22, a concert by  the rock band Linkin Park! rocked the St. Pete Times Forum (formerly known as the Ice Palace) for an amazing concert with their opening bands "Pendulum" and "Does It Offend You, Yeah?" This appearance was the band's first time back in Tampa in years,  and the wildest crowd imaginable had waited in anticipation for this popular rock band to return.
Linkin Park began when three high school friends (Mike Shinoda, Brad Delson, and Rob Bourdon) from Augora Hills, California, started a garage rock band. They began with the name Xero. They had a hard time getting their careers off the ground, as many artists often do, until Bennington joined. With the addition of his unique voice and stage presence the band was able to stand out from the rest. By 1996 the group had become international superstars with the release of their debut album, "Hybrid Theory." And the rest is history.
 Many other artists have had the chance to entertain on the stage at the Ice Palace, such as huge names like Bonjovi in 2010, and the upcoming Monster Ball Tour for Lady Gaga in April. There were seats available in the auditorium with a clear view of the stage, but the hardcore fans could be found front-and-center on the pit, so close to the singers they could nearly reach out and touch them!
"I couldn't believe how close we were! He was within arms reach of us!" said Morgan Blanchard, who attended the concert. "When Tess and I got on my brother's shoulders, Bennington looked right at us! It was crazy! And the music was incredible!"
The crowd ranged in the upper thousands, and the songs that seemed to be the favorites of the audience were pulse-racing beats such as "Bleed it Out," "Numb," and "What I've Done."
For those who aren't aware, Linkin Park is also the band behind such hits as "Leave Out All the Rest," "In the End" (their first major hit), "Breaking the Habit," and "Somewhere I Belong," among other radio smash-hits.
The Tampa show was staged with vivid strobe and spotlights, dramatic fog, and background videos to narrate the singers. But while the bass may have been loud, the excited fans were even louder in their vocal approval of an amazing performance.