Box office is up 39 percent, thanks to animated family films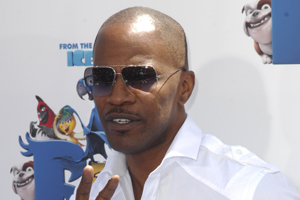 LOS ANGELES — If there's been one hopeful Hollywood story at the box office this year, it's that of the animated family film.
Three movies about cartoon animals — "Rango," "Hop" and "Rio" — have been some of the only releases to draw moviegoers into theaters in large numbers. Domestically, "Rango" is the highest-grossing film of 2011. "Hop" passed $100 million this weekend. And "Rio," which centers on a bunch of birds on a journey to Brazil, just topped the box office for the second consecutive weekend with $26.8 million, according to an estimate from distributor 20th Century Fox.
That was enough to beat out all three of the weekend's new wide releases, based on early estimates. "Tyler Perry's Madea's Big Happy Family," the latest starring his famously feisty grandmother character, collected a solid $25.8 million. "Water for Elephants," a romantic drama starring Robert Pattinson and Reese Witherspoon, got off to a somewhat better-than-expected start with $17.5 million, while the wildlife documentary "African Cats" did $6.4 million in ticket sales.
Overall, ticket sales this weekend were up roughly 39 percent compared with the same period last year, which marked the first time the box office has been up a substantial amount this year.
Much of that was because of the success of "Rio." The film, which features the voices of actors Jesse Eisenberg and Anne Hathaway, saw only a 32 percent drop in sales from last weekend.
The film also continued to perform well internationally, crossing $200 million. "Rio" grossed $44.2 million in 67 foreign markets, pushing its international total to $204.7 million. That figure, combined with a domestic tally of $81.3 million, likely means that the $90 million-budgeted movie will end up as a financial success for Fox.
"Hop," about the Easter bunny's teenage son, also had a strong weekend, collecting $12.5 million — probably because of its holiday-related subject matter. Though the film was in its fourth week in theaters, it achieved a rare feat: The movie's ticket sales were actually up 16 percent from last weekend as its domestic tally bounced to $100.5 million.
Perry's latest movie — his fourth prominently featuring his cross-dressing Madea character — drew in the filmmaker's core audience — older African-American women. The audience that saw the movie over the weekend was 72 percent female and 81 percent African-American, and viewers loved it, giving the film an average grade of A, according to market research firm CinemaScore. Strong word of mouth will be important for the film, which cost Lionsgate about $25 million to produce.
The picture posted a strong $11,254 per-theater average, which indicates how Perry's films are able to pack moviegoers into seats, said David Spitz, Lionsgate's executive vice president of distribution.
"You kind of take for granted that we can just go out and do $26 million on opening weekend. But Tyler Perry consistently delivers," said Spitz. "The exhibitors always call me on Monday morning ecstatic. Sometimes they even tell me they had to turn people away."
Still, "Madea's Big Happy Family" opened to less than the two most recent films in which the recognizable character's name appeared in the film's title. (The character made a cameo and was included in the marketing campaign of 2009's "I Can Do Bad All by Myself.") "Madea's Family Reunion" debuted in 2006 to $30 million, while 2009's "Madea Goes to Jail" launched with $41 million.
Meanwhile, "Water for Elephants," based on Sara Gruen's best-selling novel about a 1930s traveling circus, had a budget of about $40 million. Most of those who saw the film seemed to be either older women familiar with the book or fans of young "Twilight" heartthrob Pattinson, because the audience was 70 percent female. And those moviegoers enjoyed the picture, giving it an average grade of A-minus. That positive buzz could be especially good news for the movie, because "with an adult film, people don't always rush out right away to see it," said Bert Livingston, general sales manager for 20th Century Fox.
In any event, "Elephants" is off to a far better start than Pattinson's last nonvampire movie. In March 2010, his Sept. 11 drama "Remember Me" opened to a modest $8.1 million. The "Water for Elephants" results could mean he's being taken more seriously as a dramatic actor — or perhaps just that he should star in more films alongside popular leading ladies with box office clout, such as Witherspoon.
"African Cats" was well received by audiences, who gave the film an average grade of A-minus. The movie's opening weekend was on par with previous films made by Disneynature, the Walt Disney Studios label that produces documentaries about nature and wildlife. The division's first release, 2009's "Earth," opened to $8.8 million, while last year's "Oceans" debuted to $6 million.
———
(c) 2011, Los Angeles Times.
Visit the Los Angeles Times on the Internet at http://www.latimes.com/.
Distributed by McClatchy-Tribune Information Services.