Plenty of 'Pirates,' but no sea battles this time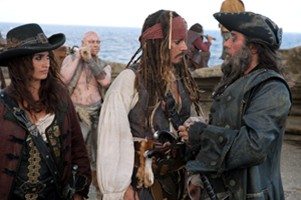 LOS ANGELES — There's a moment in the new "Pirates of the Caribbean" film when a peg-legged privateer calls his crew to battle stations — an enemy ship has been spotted on the horizon — and the Disney franchise appears poised for another one of its signature sea battles. But the high-seas skirmish never happens and, in a bit of shocker, not one cannon ball flies in all 137 minutes of this buccaneer blockbuster.
"Pirates of the Caribbean: On Stranger Tides" arrives in theaters Friday with an expensive star in Johnny Depp and a budget somewhere north of $200 million just to make the film. Still, the project was a tighter ship when it came to visual effects and those open-ocean scenes that drive up costs on a movie. From a creative standpoint, the filmmakers say they were looking to refresh the franchise with new faces and a new, leaner plotline.
"The idea was absolutely to distill what is best about the franchise and concentrate on that," said director Rob Marshall. "The effects should work in service of the story too, not the other way around."
Months ago, producer Jerry Bruckheimer said screenwriters Ted Elliott and Terry Rossio were specifically instructed to craft a story with a shore-leave mentality that would limit the high cost of shooting on the high seas. The result is a movie with jungle chase scenes, a visit to London and plenty of swordfights but none of the ship-to-ship combat that stretches the screen and the budget. Also, with an eye on the bottom line, there are no central characters that require major computer-generated effects the way the octopus-faced Davy Jones did in the two previous films.
Bruckheimer blanches at the suggestion that the new film — the fourth in the series — is anything less than epic. The franchise has racked up $2.6 billion in worldwide box office, but the producer said this adventure needed to go to new places. Bruckheimer and Disney also remember that reviewers attacked the previous movie for putting digital spectacle ahead of a coherent story.
"Story, pure story," Bruckheimer said of the choice to pare down the special effects (there are 1,100 visual-effects shots in "On Stranger Tides," down from about 2,000 in the previous outing). "We give the script to our visual-effects people and they say, 'Here's the count.' Sometimes, if you have budget problems, you'll cut a sequence out, but we were very fortunate. We came in very close to where they wanted us to. The movie was on budget, which is unusual but good."
None of this is to say that money wasn't spent on the project, far from it. It seems as if every bus and billboard in America has Depp's face on it, and after four international premieres — at Disneyland, and in London, Moscow and at the Cannes Film Festival in France — marketing and advertising costs will push the total project price tag to $400 million or more.
The investment appears to be paying off; pre-release surveys show robust audience interest and industry observers expecting a massive opening weekend box office. This is the first "Pirates" film to benefit from the pricier 3-D tickets; the movie will also be shown on 402 Imax screens, a record number.
Marshall said the emphasis this time was on a well-told tale, humor and a brisk pace. The plot presents Depp's Sparrow in search of the Fountain of Youth, which is also being sought by old rival Hector Barbossa (Geoffrey Rush) and franchise newcomers Blackbeard (Ian McShane) and Angelica (Penelope Cruz), along with Spanish King Ferdinand (Sebastian Armesto).
The movie is 33 minutes shorter than the previous installment, but Marshall doubts that anyone will feel cheated.
"It's one of the things I loved about the script, it is new and a chance to reinvent the action we present," said Marshall, who took over for Gore Verbinski, captain of the first three movies. "This is a different. We don't have ship-to-ship battles. Instead, we have a centerpiece scene with mermaids, these sirens of the sea, and it's such a great, new original idea."
Those mermaids sang their seductive song mostly at Falls Lake, a vast 2.7 million-gallon tank on the Universal Studios lot — a far cry from the first film, when construction crews built three piers and a backlot on the Caribbean isle of St. Vincent. "On Stranger Tides" was filmed primarily in the jungles and beaches of Hawaii and in London, where tax credits are more favorable. The number of shooting days was kept around 106, down from 142. For Blackbeard's ship, the production team stripped down the Black Pearl, Sparrow's ship from the previous films, and redressed it in a cinematic version of recycling.
However, don't try to suggest to Bruckheimer that those decisions add up to a discount.
"Forget the tax credit," he said. "We wanted to start the new series in a whole different place, not the Caribbean, to give the audience something fresh and new. The tax break was an added advantage, but it was always a creative decision, and it was made early on."
Even the star of the film said that sometimes, less is more. Depp said, for instance, that even his head began to swim while shooting a loopy scene in the last movie, in which Captain Jack finds himself in Davy Jones' locker and is confronted by multiple version of himself, a goat and an elusive peanut.
"It was probably the most expensive surreal sequence in the history of movies," he said.
"There were times along the way where I turned to Gore, (and said) 'OK, what's going on again?' There was so much imagination and we had to keep topping what came before," Depp recalled. "This time it was very important to us that we made a movie that had room to breathe and an openness for the audience."
———
Times staff writer Rebecca Keegan contributed to this report.
———
(c) 2011, Los Angeles Times.
Distributed by McClatchy-Tribune Information Services.