No help wanted for Viola Davis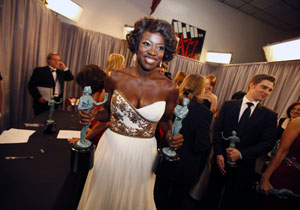 The Help, the star-studded drama about black maids in 1950s Mississippi, may have racked up several Oscar nominations and prestigious awards, but for many African Americans, the movie poses an almost existential dilemma. Its very premise represents a sore point in the collective black psyche. Even though Viola Davis, the movie's star, may become the second African American female ever to win an Oscar for a leading role, her award will carry a disclaimer within the black community.
Her performance of a lifetime bears this tarnish because she portrayed a domestic. The culture of African American intelligentsia has long had a phobia of publicly associating itself with the figure of "token blacks," individuals whose job is to serve as buffoonish, one-dimensional generalizations of African Americans. Therefore, the role of the servant, the cook, the athlete,  and countless others has been relentlessly criticized by influential African Americans.
Tavis Smiley, a liberal black commentator for such networks as Black Entertainment Television, has publicly lumped Davis's role with the litany of black stock characters. On NPR, he attacked it as a regression for the public perception of African Americans. Smiley compared Davis's role to Hattie Daniels' 1946 performance of Mammie, the guffawing, simpering maid in Gone with the Wind.
Davis has received noticeable support amid the black community in the form of the NAACP's Image Awards presented to her, as well as her cordial interview with Andre Leon Talley, the former editor-at-large of Vogue. Notwithstanding that, the criticism of Davis remains hostile. However, failure to view the movie is the only justification for such unfounded remarks.
Davis plays her character with depth. Although she portrays a maid, her role calls on her to develop into a strong and proud woman who defies the rigid hierachy of her society in order to help shed light on the many injustices directed at black domestic servants by their employers. There is no shtick in her portrayal, only truth. The film avoids stereotypical, angry black woman à la Tyler Perry's Madea series. If Davis had played any other role, her performance would have been viewed simply for what it was – masterful and deserving of an Oscar.