'Smash' is smashing the charts on NBC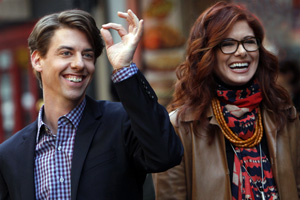 Think about New York, now picture Broadway. All the lights, glamour, music everything attracts one budding star to the concrete jungle.
Karen Cartwright (played by Katharine McPhee) is a "starving artist" trying to make her name on Broadway. Going to auditions after auditions she remains without a breakthrough role. On the other side of Broadway, two co-artist directors start brainstorming a new musical.  These co-directors are the famous duo of Julia Houston and Tom Levitt (Debra Messing and Christian Borle).
A new assistant to Tom leaks a video of a pre-released song from Marilyn: The Musical. Causing controversies with Julia, Tom and his assistant. With the leaked video on the internet, auditions must be held to find the "perfect Marilyn". Throughout the show,  a constant showgirl Ivy Lynn, and Karen Cartwright the budding artist become the two women that fight over the role of Marilyn Monroe.
While the auditions are being held, the duo must be creative with their musical numbers, as to be original while showcasing Marilyn's true beauty, attitude, and life.  They decide to go to their manager friend who knows the perfect choreographer to define those qualities of Marilyn. Posing Ivy Linn as Marilyn for a baseball number is a foreshadowing effect that she will win the callbacks, and become the new Marilyn on stage.
Since the announcement, Karen Cartwright was placed in the chorus. But issues arise when her voice overpowers every chorus member plus Ivy's. As the show continues down the path of earning a stage to present on, much drama is to come of these two battling actresses.
Actor Christian Borle, who has won awards for his work in Broadway musicals, is very excited about the success of the show.  In a recent interview with MCT,  Borle was more than enthusiastic. "  Having this amazing good fortune of working toward something I love and having 'Smash' happen, whatever happens with it, however it is received, however long it lasts, it's already been unbelievable."