British musician Ed Sheeran kicks off first US headlining tour in Orlando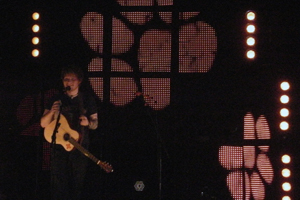 Ed Sheeran.
If you haven't heard this name already, you will in the near future. The British singer and songwriter is on his way to making an impact on the American music industry, just as fellow UK pop musicians, One Direction and Cher Lloyd, have in the recent months. Not to be confused with the pop genre however, Sheeran's music is a genre by itself, incorporating acoustic sounds with the occasional rapping and beat-boxing.
Sheeran began his first North American headline tour at the House of Blues in Orlando on September 8. At least two hours prior to the concert, hundreds of teenage girls were already stationed in a line as far as the eye could see.
Crammed closely together inside the venue, the audience warmly welcomed and enjoyed the opening act, Passenger, the stage name of Mike Rosenberg. Later in the show, Sheeran brought his "good friend and tour mate" back onto the stage to sing a duet.
Glass-shattering screams could be heard throughout Downtown Disney as soon as Sheeran stepped onto the stage for the first time. From his opening song "Give Me Love" to his encore appearance, Sheeran proved to be a genuine crowd-pleaser. Not only did he sing his original songs, he also recounted stories that had inspired some of his songs and orchestrated sing-alongs with the fans.
Senior Taylor Hernandez said, "He sings brilliantly live. He is the best singer I've ever heard. I already knew he had an amazing voice, but when I heard it live my jaw dropped. It was perfection."
Arguably, the best part of the night was Sheeran's epic encore performance that lasted for almost fifteen minutes. Together, Sheeran and the crowd rocked out to an extended version of "You Need Me, I Don't Need You" before merging to his final and most well-known song "The A Team".
"After the crowd screamed to the point when I thought I would go deaf, Ed came back on stage for a fifteen minute encore, exceeding any fan's dream! It was amazing!" said senior Carrie Donica, one of the many fans who agreed that "You Need Me, I Don't Need You" was the "Best in Show."
Raised in Suffolk, England, Sheeran discovered his love of music by learning how to play the guitar at an early age and writing songs during high school. As an independent artist, he released his first two albums in 2006 and 2007. He moved to London in order to start playing gigs at small venues. Sheeran's big break came when he released his final independent EP, which received mainstream attention by topping the iTunes chart without any promotion or label.
Since then, Sheeran's fan base has grown rapidly because of the power of YouTube and other social media on the Internet. His debut studio album, "+," found its way to the "Top 10 biggest-selling albums of 2011 in the UK."  After climbing the charts in the UK, conquering America's music charts will not be much more of a challenge. Sheeran has already penned songs for One Direction and Taylor Swift's upcoming albums.
With a successful first show under his belt and many more to come, Ed Sheeran's music will not remain unnoticed to the United States much longer.