International Thespian Society claims a spot in Academy's performing arts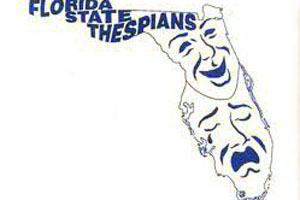 Bayshore Thespian Troupe 0846, a new honors society and competitive Theatrical Arts troupe, has arrived to claim its spot among the many extracurricular activities offered at Academy.
Bayshore Thespians will meet during Blue Club set on Wednesdays to rehearse their I.E.'s, or Individual Events. The I.E.'s include Monologue and Duet Acting, Solo and Duet Musical Theatre, Small and Large Group Musicals,  nearly every performance opportunity imaginable, which thespians can perform at Districts.
Additionally, those thespians who are not fawning over the idea of performing in front of crowds can participate  in behind-the-scenes jobs, such as set design, costume design and construction, playwriting, and student directing. All events mentioned are available to every member of the Thespian Troupe.
Blue Club and out-of school rehearsals will lead to the Districts competition,which will be held at Wharton High School this year. Districts begins the season of Thespian competition, while States finishes it. The last main competition at States is "show time," in which all other high school troupes come perform, compete, and take workshops. The long rehearsals and extra hours staying up to practice and perfecting their performance pays off here at States. That is, if they pass districts competition with an "Excellent" or "Superior" rating.
Both competitions have the same grading scales for performing acts and technical events.  The highest I.E. ratings a Thespian can receive are "Superior," the highest possible rating, and "Excellent," the second highest rating. "Superior" and "Excellent" ratings allow the competitors to proceed directly to the States Competition.
In contrast, the other ratings – "Good", "Fair", and "Poor" – do not allow the competitors to compete for their troupe at States. Besides the ratings, there is also Critics' choice, which allows the judges to pick one piece from each group of performers or technical competitors that they thought reigned supreme over all the rest.
After a successful first meeting, members are looking forward to this upcoming year. Hilda Delgado, a junior member of Thespians, said "I think Thespians is going very well so far! It seems like a lot of fun and we seem to be right on task practicing for Districts and learning about all there is to know about theatre."
Sophomore member Jacqueline Do added, "I think Thespians is going to be great this year. I'm so excited! The people in the group are great as well. Everyone can just relax and be themselves and do what they love to do. That's my favorite part about this club."
Academy is sure to step up to the challenge of this season considering the talent of the Thespians and guidance from the enthusiastic moderator, Ms. Cox. Members can now take part in this experience as a step to becoming a professional performer or part of the technical crew. 
Districts, watch out for this troupe, they will be fierce as JAGUARS!
To learn more about Thespians, lead your iPad to this link http://www.flthespian.com/index.html and immerse yourself in Florida theatre.