Jesuit Masque's 'Curious Savage' has fun with a familiar theme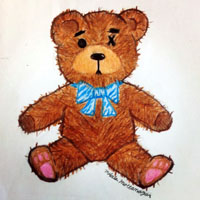 On November 15, 16, and 17, the Jesuit Masque will be presenting their fall production of The Curious Savage. Written by John Patrick, Savage is a comedic production centering around the life of the widowed Ethel P. Savage. Mrs. Savage was left a fortune of ten million dollars by her late husband. The plot revolves around Mrs. Savage's greedy stepchildren who desperately wish to steal her inheritance.
Jesuit's rendition of the production is directed by Mr. Austin Freeman, with tech led by Mr. David Patenastro. The cast has been rehearsing since early September. The play features the acting talents of Academy juniors Sara Allison, Khalei McKown, Bridget Davis, Emily Dever, and Emily Rodriguez. All of whom are exceedingly excited to present their show to the Jesuit and Academy community.
Mr. Freeman shared his enthusiasm for including Academy students in his drama productions.   "Acting alongside the ladies of the Academy of the Holy Names is a tremedous privilege for us Jesuit boys, and together we look forward to putting on a truly heart-warming show."
Tickets for the show will go on sale for $5 on Monday, November 12th. To purchase tickets, please see Emily Dever, Khalei McKown, or Caroline de Quesada.