Test your fears at Howl-O-Scream
Busch Gardens has opened their Halloween event "Howl-O-Scream" and is waiting for you to come and meet the 13. This year, Howl O Scream features the 13 evil figures that have been expecting you. Featuring Haunted Houses and Scare Zones, this year's event will make you scream at the top of your lungs.
The featured Haunted Houses are a combination of old themes that are back by popular demand, but include a twist. They are: Circus of Superstition–3D Style, Nevermore, Blood Asylum and Zombie Mortuary.
The advanced horror experience for this year is called "The Experiment." This personalized haunted house is for those who dare to face their fears, but is not included with regular admission. According to Busch Gardens, "Researchers will be challenging your fear tolerance and mental endurance in this interactive, never-been-done-before experiment." It has been rumored that "The Experiment" will include non-venomous snakes and bugs thrown at the public.
Once you've passed the haunted houses, you'll realize the horror is not over yet. Scare Zones, such as Harvester's Haunt and Pain Lane will keep your heart rate up just when you're expecting a moment to catch your breath.
Not only will you get to enjoy the Scare Zones and Haunted Houses, but the roller coasters will be ready for you as well. Whenever you feel like you've had enough evil, ride Cheetah Hunt and take a well-deserved break!
I decided to test my fears this past Saturday, and my experience ended up being nothing like expected.
Frankly, this year's Howl-O-Scream was not scary at all. I visited all the haunted houses and scare zones, but there was nothing that truly made my heart stop beating.
If I had to choose which was the scariest haunted house, I would say Blood Asylum; not because it was scary, but because the large amount of fake blood hanging off the walls creeped me out.
Regarding waiting lines, this year was not as bad as last year. Last year I waited two hours to go inside a Haunted House. This year the most I waited was 45 minutes to go inside Death Water Bayou, which is the most popular. I also rode Cheetah Hunt and Gwazi with wait times at both clocking in at a cool ten minutes.
I definitely recommend you go inside Death Water Bayou and Nevermore first because they are the most popular. Whenever you need a break, the right choice is to ride some roller coasters, because the waiting line is not large at all.
My overall experience with this year's Howl-O-Scream was not as positive as I wished it would have been. I thought I was going to be really scared, but I left the park disappointed. For a fun night with friends and family with a low tolerance for fear, it will be a fun experience. However, if the reason you're going is to be horrified, and scared senseless, maybe give Halloween Horror Nights a shot.
Have you visited the thirteen yet? They're expecting you, so you better visit soon! If you have, What's been your favorite part of the event?
Happy Haunting!
Leave a Comment
About the Contributor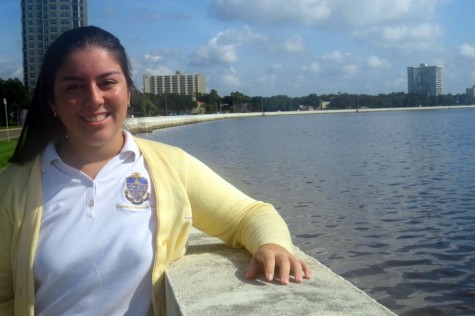 Alejandra Lozano, Editor in Chief
Alejandra Lozano is a senior at the Academy, a fourth year journalist, and an Editor-in-Chief of the Achona. Her favorite subject is AP Lit and some of...