"Youtubers" you should subscribe to
If you go online to watch music videos, podcasts, interviews and vlogs, odds are you're addicted to YouTube. It is not only a place to share videos with friends and family, but has also served as a basis for discovering popular artists like Justin Bieber, Greyson Chance and Austin Mahone. There are also people that upload videos to YouTube on a regular basis for general entertainment; some even earn money from it. YouTube stars like Shane Dawson, Bethany Mota, Grace Helbig and Ryan Higa have been creating videos for more than five years, and currently have more than 3 million subscribers each. As said by Shane Dawson, " I would've never expected YouTube to become a part of my daily life, but the great things that came along with it show that it was worthy."  The term for people that do videos on a regular basis is known as a "YouTuber." With styles ranging from comedy, beauty, and video games channels, there is a Youtuber for everyone.
Vlogs
What's better than watching one YouTuber? Watching six of them film for a single channel, together! O2L is a collaborative channel featuring famous youtubers Connor Franta, Ricky Dillon, Sam Pottorff, JC Caylen, Trevor Moran and Kian Lawley. If you're in the mood for watching "follow me around" vlogs, advice videos or simply want to get a laugh from a cute boy, this is the channel for you!
Reviews/ opinions
If you wonder where those "Kids react to…, Teens react to…." Videos come from, they're from the Fine Bros! This channel is dedicated to making video reviews of viral videos and things going on in pop culture. If you want to know what the general public thinks of a certain event, tune in to their channel!
Comedy
Grace Helbig is a big comedian in the YouTube community that features a different theme 5 days a week. With themes such as "Miscellaneous Monday, Comment Tuesday and Review Wednesday," Grace will surely keep you entertained.
Beauty
Bethany Mota is one of YouTube's popular "Beauty Gurus". Her how-to videos range from makeup, to hair, nails, and everything else a girl needs. With Halloween approaching, if you need creative ideas for your hair and makeup you should tune in to Bethany's channel.
Video games
If you're a gamer person, Pew Die Pie  is definitely a channel you should be watching. Felix Kjellberg from Sweden makes videos where he shows his face next to the video game and takes you along with him while he plays. His videos can give you video game reviews, opinions and cheats. He also has a few comedy videos that you will definitely enjoy.
Fitness
If you want quick "exercise at home" videos, Casey Ho is the YouTuber to watch. She has quick 10 minute cardio workouts, Yoga, Pilates and Zumba. This is a fun way to get your daily work out done at home.
Music Covers
Cimorelli is a family singing group made up of six sisters that started posting videos of them singing at home back in 2012. They are currently signed with Universal Music Island's record label. If you want to watch a cover of any recent song in Acapella or listen to their new songs, this is the channel you've been looking for.
Leave a Comment
About the Contributor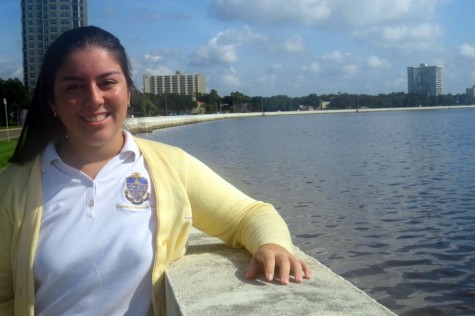 Alejandra Lozano, Editor in Chief
Alejandra Lozano is a senior at the Academy, a fourth year journalist, and an Editor-in-Chief of the Achona. Her favorite subject is AP Lit and some of...