Coming to a theatre near you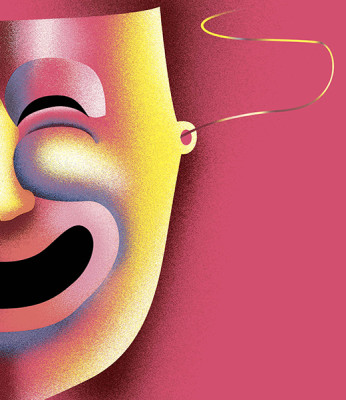 The fall season brings many new things to the community. Cooler weather, warmer clothes, holidays, homecoming, new movies and TV shows, and new theatre productions from Jesuit and AHN.
Jesuit's Masque Theatre brings to the stage the comedy, Noises Off, written by Michael Frayn. Their previous shows include last year's The Curious Savage and Beetlejuice.
Noises Off is a play within a play, and revolves around the dysfunctional yet amusing relationships of the cast. It follows the rehearsals, backstage antics, and performance of a flop play, making this production a comedy any theater lover would enjoy.
"It's kind of crazy; it's the craziest show I've been involved in. You're watching a play fail in a good way," senior Masque actress Emily Rodriguez explains.
Although the play has three different acts, it maintains a fast pace throughout.
"The hilarious slapstick comedy happens so fast, that if you blink you could miss a joke. Even though I've heard the jokes every single day (at rehearsal), I still cry from laughter," adds Emily Dever, who plays the role of "Poppy".
"There's a lot of British humor (in the play) and there's a love triangle," senior actress Sara Allison shares as she encourages people to attend the play.
Masque's Noises Off performances are at 7pm on November 14 and 15, along with a matinee performance on Saturday November 16at 1:30pm and 7pm at Jesuit. Go support your AHN sisters Emily Rodriguez, Emily Dever, Sara Allison, and Khalei McKown, as they perform on stage.
AHN's Bayshore Players has switched things up this year. Previous plays include Like Me and Promedy. This year, instead of having a traditional (full length) fall play, they are focusing on competition in December. The competition is for District 9's One Act Festival and is composed of plays that are a single act long, performed by high school students within our district.
The chosen play, Miss Beth by Don Zolidis, is a short dark comedy that combines Shakespeare's Macbeth, the classic cheer comedy Bring It On, with just a hint of Mean Girls. It's a quick, modern humorous twist on Shakespeare's classic play as we follow cheerleader Beth's outrageous and aggressive rise to power as cheer captain, only to become mad with power.
The cast consists of Megan Glogowski, Lexi Nieto, Ashlyn Bradshaw, Sydney Coleman, Bridget Davis, Gaby Mendez, Khalea Armstrong, Emilie Ulbricht, Jhuztin Honrado, Gracie Hancock, Sydney Sommer, Hilda Delgado and Valerie White.
"It's a fast paced, fun show [and] really funny. I'm so glad that I'm a part of it," says senior actress Gaby Mendez.
"I'm really excited to be fighting against [Megan Glogowski]," Hilda Delgado reveals about her role. The two are both excited at the chance to do stage combat as the titular character Beth and the rival cheer captain, Blimunda.
Junior Lexi Nieto plays the role of Beth's crazy, blood thirsty best friend Sam, "I feel like everyone will get a kick out of it, because it's so ridiculous. It's so fast-paced and over-the-top that everyone is sure to be entertained, or at least keep thinking, 'Is this really happening right now?'"
The night of Friday, November 22 the cast of Miss Beth will take the stage at Academy, as the second act of Bayshore Players Thespian Showcase Dinner Theatre. The night, which is sponsored by NHS will showcase the talents of Academy girls who competed at the October District IE Festival.
With Jesuit's show opening this week, and Academy's the following Friday, both are sure fire ways to enjoy a weekend before our big Thanksgiving break!
Break a leg ladies!

 * Tickets for the Thespian Showcase Dinner Festival will be sold Tuesday and Wednesday (11/19 and 11/20) before, during, and after school in the 2nd floor foyer.
View Comments(1)
About the Contributor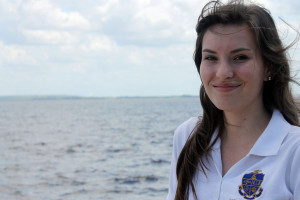 Megan Glogowski, Senior Staff Writer
When senior Megan Glogowski isn't writing an article for Achona, you
can usually find her laughing with her friends, fangirling over
musicians, and randomly...