Mr. and Mrs. Clooney
Actor George Clooney is officially off the market as of September 27, 2014. The 53 year old sealed the deal with 36 year old Amal Alamuddin in Venice, Italy. The couple reportedly started dating in Fall of 2013 and were engaged to be married in April of 2014. The ceremony, which was held at Aman Canal Grande Venice, was said to have been sweet and simple with a time frame of about thirty minutes.
The festivities began Thursday, September 25 and continued on until September 29. Amal's bachelorette and George's bachelor party occurred the night of Friday, September 26 in Italy. The bride to be celebrated at the Aman Canal Grande Venice, and the groom celebrated at a popular Italian restaurant by the name of Da Ivo.
The wedding was a total of $4.6 million, which included the Oscar de la Renta gown and Clooney's suit which was over $5,000. Boats took guests across the Grand Canal to the wedding party which was held during the couples second day in Venice. Sophomore Marie Dela Cruz believes "The amount of money spent was for a good reason. It was an outrageous amount of money, however he earned it so he can use it on whatever he wants." Guests at the event included actress Emily Blunt, U2 lead singer Bono, The Office star John Krasinski, and actor Matt Damon. On September 30, the couple sold the rights to the photos from the wedding, and were both featured on the cover of People. The newlyweds honeymoon is set to take place in Seychelles, and island east of Southeast Africa.
Leave a Comment
About the Contributor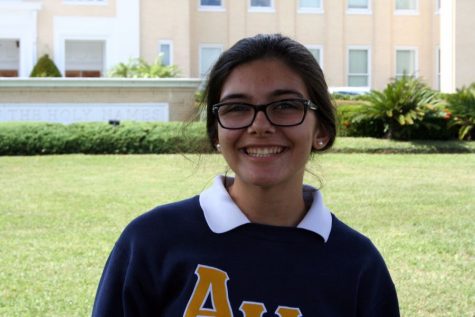 Vanessa Alvarez, Editor-in-Chief
Vanessa Alvarez is a third year member of Achona and one of four Editors-in-Chief, as well as Co-President of the Teen Leadership Council. Within the Academy...