Beauty and the Beast at the Straz
May 8 was the opening night for Broadway's rendition of Beauty and the Beast at the Straz Center in Tampa. Actors from Broadway have been traveling for months putting on a show for millions of Disney fans. It was modeled after the animated film created by Disney about a young French woman who falls into the hands of a dangerous beast, but later falls in love with him realizing it's what's on the inside that counts.
Before the play began, there was a backdrop of a rose, which plays a significant role with the curse of the Beast. The set was beautifully designed with very realistic backdrops of the town where Belle lived and the home of the Beast. Sophomore Anna Padron, who attended the play, compared the movie and the play, stating: "I thought they were very similar overall. I feel like they fall in love quicker in the play than they do in the movie."  She also added, "I thought the actors were phenomenal! Gaston's sidekick stole the show; he was hilarious."
The orchestra performed the film's music incredibly, making it sound like it came straight off the movie.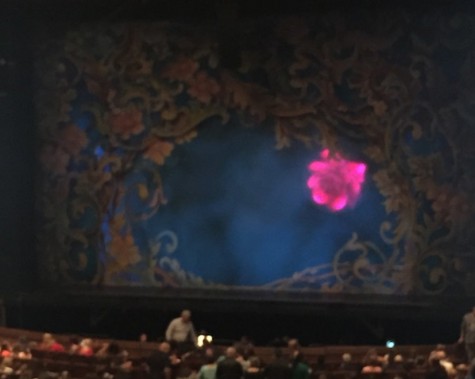 My favorite performance from the play was Be Our Guest. Padron responded the same adding, "My favorite performance was "Be Our Guest"! It was spectacular with all of the different costumes and backgrounds – really great." In my opinion, this song is one of the biggest performances in the entire movie and definitely an audience favorite at the theatre as well. The performers did an incredible job recreating the moment with bright colors, flashing lights, and confetti guns, which all added to the already present excitement. Some of the actors dressed in silverware costumes such as forks, knives, and plates.
The play as a whole was absolutely incredible and highly recommended. It felt as though a movie was being played rather than a live performance. The actors creatively retold the love story that is ages old, and brought back the excitement and love for Beauty and the Beast, which was seen through the standing ovation at the end of the preformance!