SoundCloud, Spotify, and Pandora: Which streaming service is best for you?
Music has always played an important role in human culture. From Mozart, to Elvis, to the Beatles to One Direction, people have enjoyed listening to music for decades. Music streaming apps are a new revolutionary invention of how to listen to music. Music streaming is a way to wirelessly play music off any mobile device without paying for or downloading music. Three of the most recognizable music streaming apps to date are SoundCloud, Spotify, and Pandora. Out of ten Academy students; four students said Soundcloud was their favorite music streaming app to use, four students said Spotify was their favorite music streaming app to use, and two students said Pandora was their favorite music streaming app to use.
1. SoundCloud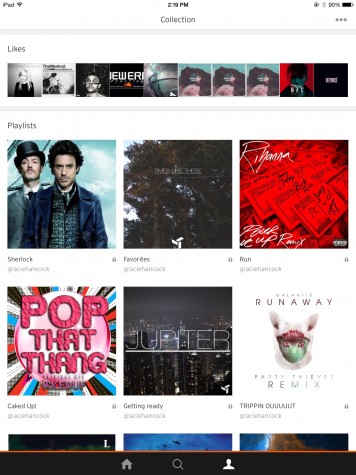 SoundCloud is a free music streaming app that combines the music streaming experience with social media. Users can browse a wide selection of music for new and original artists or they can listen to old classics. Pia Roca, a senior, says "I like to listen to SoundCloud because not only are you able to listen to songs on the radio but also mixtapes and remixes which sometimes are better than the originals".
Pros:
-Anyone can upload music to SoundCloud, which makes it a great place to find new, smaller, even local artists.
-You can access and listen to the app on your laptop, iPad, or iPhone.
-You can comment on songs.
Cons:
-Some may find the app difficult to navigate.
-You need WiFi to use SoundCloud.
2. Spotify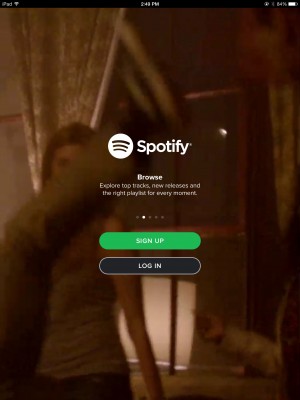 Spotify is a great way for users to share what they are listening to with friends. With Spotify, users can access entire libraries from favorite musicians, or find playlists based on the user's mood. Christina Alarcon, a sophomore, says "I like Spotify because it has a lot of current and popular music on it and I can listen to anything I want any time I want".
Pros:
-You can use Spotify to find music based on your mood.
-You can listen to an entire library of various artists.
-You can share what you're listening to on your Facebook.
Cons:
-There are commercials (unless you pay the monthly $10 membership fee)
-You have to have a subscription to access the app.
-You can't view your notifications while using the app.
3. Pandora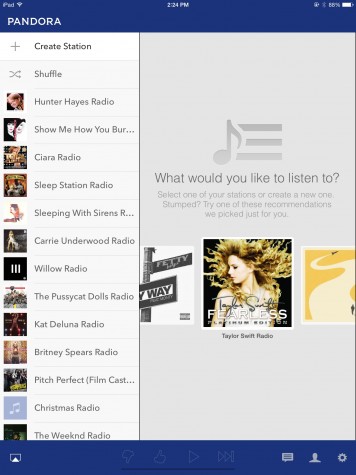 With Pandora, users can plug in any artist or song title and the app will create a radio station with similar music. Users can up-vote or down-vote specific songs and Pandora will begin to learn what kind of music users like and play more songs like it. Jeanine Ramirez, a senior, says "It's very simple and it doesn't take a lot of work to use. You just press the play button and it does it's own thing".
Pros:
-There is a good library of music on the app.
-Pandora creates playlists for you so you don't have to do it yourself.
-You can play music off the app without WiFi.
Cons:
-There are ads.
-You have to pay for a subscription.
-Some playlists on the app may sound repetitive.
-This is not the app for you if you are looking for a specific song.
In the end, it doesn't matter which music streaming app you chose, or even if you chose to buy and download your own music. All that matters is having the freedom to access your favorite music anytime, anywhere.