Burnin' Up for Jonas Brothers
Before One Direction, The Vamps, 5 Seconds of Summer, and other foreign boy bands of this generation, there was the prime boy band comprised of 3 brothers… the Jonas Brothers. Kevin, Joe, and Nick took the world by storm back in 2008. Even though their run as a band might be over, their music still impacts the fans, especially the fans on Bayshore. Senior McKenzie Miller shares a special bond with the band, "They're a band that I still listen to; they were my first concert and I remember every memory from that night." Some other girls discovered them a different way. Senior Gracie Hancock shared, " Fun fact: the Jonas Brother's song "Year 3000" was originally a song by the English band called Busted."
Kevin Jonas
Paul Kevin Jonas was born on November 5, 1987. He was the oldest brother and the guitarist of the Jonas Brothers. Throughout the band's run, Kevin was mainly the favorite of the moms. Senior Ashley Kelly shared, "He was irrelevant and no one really remembers him."  He was definitely the dad of the band and is the only one out of the brothers to not go back to pursue a music career after the split. Instead, he decided to settle down and marry long time sweetheart Danielle Deleasa on December 19, 2009. Mr. and Mrs. Jonas started their family in 2014 with the birth of the daughter Alena Rose. Senior Camille Yodzis shared, " He might have been irrelevant in the band, but hey look at him now, he has a wife and child and he is doing fine…*doing finnneee*."   He is now working as a building contractor, and was the contractor for Kathy Wakile, a housewife on The Real Housewives of New Jersey. His contracting company is Jonas Werner Homes and follow them on Instagram @officialjonaswernerhomes.
Joe Jonas
Joseph Adam Jonas was born on August 15, 1989. He is the middle brother and the lead singer of the Jonas Brothers. Through the band's run, Joe was the face of the band and the one all the girls loved and who all the boys want to be. After the split in, Joe took some time off then went to pursue a solo career and debuted with his album, "Fastlife". Though his solo career didn't take off, Joe started the band DNCE, and released the single "Cake by the Ocean" . Senior Christina Thompson is hopefully for Joe's new band and shared with me that, " I love DNCE !!! It has a whole new vibe to music. It's not pop, it's not alternative, and it's not rap. When I listen to 'Cake by the Ocean' I feel like I should be at the beach." Senior Alexis Markines is a huge DNCE fan and shared, "I love them because they make me D(a)NCE." Alongside his brother, DNCE will make their first Tampa performance at 93.3's FLZ Jingle Ball in December. Joe's relationship with, famous model, Gigi Hadid has also put him in the spotlight and they are they new 'OTP'. But some may disagree. Senior Christiana Thompson is a fan other of the new couple sharing, "Joe was my favorite and still have faith in our relationship, so I don't know why he is with Gigi."
https://instagram.com/p/8EauLpD8Ga/
Nick Jonas
Nicholas Jerry Jonas was born on September 16, 1992. He is the 3rd oldest brother, but the youngest brother of the Jonas Brothers. Nick was the 'it' boy of the band. He definitely has the hearts of the girls on Bayshore, Senior Rebecca Castellano shared,  "I always thought that Nick was the hottest and I still think he's the best but I still think they should get back together." Avery Stanechewski shared, "I always knew nick was the most talented and I'm happy for his new songs becoming so popular and I was an original 'jobro' fan back in the day." He was the sweetheart that everyone loved to hear sing, and  who made everyone cry when he sang 'When You Look Me in the Eyes' or 'A Little Bit Longer' at their concerts. Senior Camille Yodzis sadly shared, "The moment when Nick, the hot one, stepped on stage and sat on by piano, I was instantly in tears and the feels hit hard."  Nick's battle with Type 1 diabetes influenced their music and influenced him to be a role model. Nick was diagnosed at the age of 13; and he developed the Change for the Children Foundation. Partnering with five different charities, their goal is to raise money and awareness for diabetes. Nick has been successful ever since when he tried to go solo at a young age. Now he is taking the world by storm with his singles, "Levels", "Chains, "Jealous". Nick just wrapped up his first solo tour, and will be back in Tampa for 93.3 flz's jingle ball. Senior Remi Storch got to experience his show when he came through Florida and shared with them that, "It was the best concert ever, the elementary and middle school girl in me was going crazy, and Nick's solo career is amazing and  I can't wait to see what he does in the future."
Not only did the brothers sing, but they could also act. The boys played as the band Connect 3, in Disney's hit movies Camp Rock and Camp Rock 2: The Final Jam; and also played brothers on their Disney show, JONAS. The three brothers could make girls cry, smile, and everything in between. Girls would swoon and moms would jam at their concerts and just put everyone in a good mood. When they announced their break-up, millions of girl's hearts broke. Senior Alexis Markines shared, "It was the most tragic thing to happen in our generation…even worse the Zayn Malik leaving One Direction." Senior Maddie Matesich is still bitter over the breakup sharing, "I'm still bitter they ended the band but I love that they are finding their own styles and doing what they want! I'll always be an OG jobro fan though (especially joe <3)." Christina Thompson shared her experience at their final show in Tampa as a band, "Isabella and I went to their last concert as a band together (summer going into junior year)! It was great having a major throwback reunion concert, but the boys want to go their own paths they go. As a fan I support their decisions."
About the Writer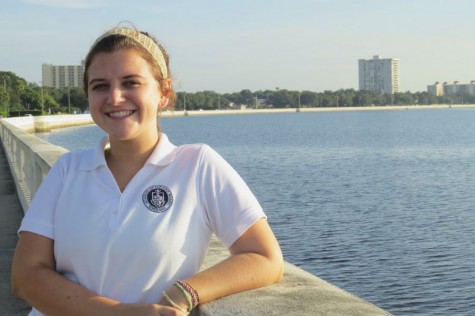 Gabrielle Vivero, Senior Staff Writer
Gabrielle Vivero is a Senior staff writer for the Achona online newspaper. Although this is her first year on the staff, she is already excited to share...