Taylor Swift makes Tampa's wildest dreams come true
Saturday, October 31 2015 Taylor Swift shook the Raymond James Stadium  in Tampa as fans all across Florida came to her final 1989 North American Tour with Shawn Mendes and Vance Joy. She utterly rocked it. With 55,000 guests, Swift's show, complete with countless costume changes, rotating catwalks, an array of light-up wristbands that illuminated the football stadium,  and  surprise special guest Broadway star Idina Menzel- it was a Halloween night many Floridians, most especially many  Academy girls,  will never forget.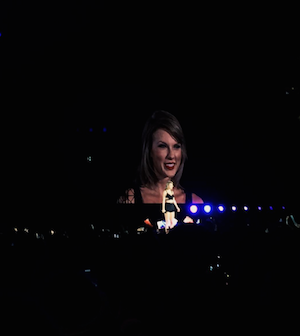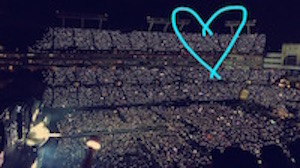 photo credit: Sophia Bahr
Taylor Swift's two opening acts of choice- Shawn Mendes and Vance Joy began the night with total musical enchantment. Shawn Mendes, better known for his song "Stitches" kicked the night off with a guitar and a standing microphone. One would think that a seventeen year old would be fearful or nervous singing in a stadium with 55,000 screaming Swift fans, yet, the artist proved his worth with his mellow, sweet sounding voice that won the hearts of a multitude of  girls. The next act was  followed by Australian artist and equally handsome Vance Joy, better known for his hit, "Riptide". Joy appropriately showed his buccaneer spirit at the stadium by dressing as a Tampa pirate- all tied together with a black eye patch. Sophomore Sara Phillips says his costume was "a great combination of Halloween and Tampa culture. It was very thoughtful of him to dress up in something that incorporated the city he was performing in."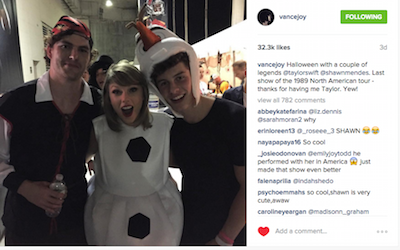 photo credit: instagram//@vancejoy
TAMPA! you were absolutely incredible tonight. The best way I could've ended this tour. I love you ❤️

— Shawn Mendes (@ShawnMendes) November 1, 2015
Then came the one and only Taylor Swift, strutting into the final show of her fifth North American Tour with power when she opened with "Welcome to New York". And oh yes Taylor, Tampa's been waiting for you. Throughout the night Swift made sure to entertain her guests by confidently pulling out her favorite dance moves, singing a remixed version of one of her  older songs ("love story"), or even giving an inspirational pep-talk before one of her more emotional, serious songs, "Clean." Sophomore, Gillian Garcia says "I think Taylor's "Clean" speech was very touching. She hit points about social media and how we should use it and how we can turn negativity into positivity. It inspired me to look out for others. Her speech did touch me and the 55,000 of us."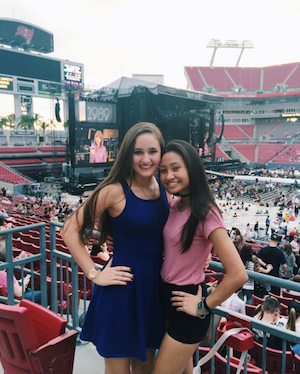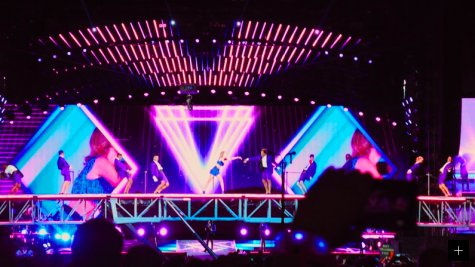 What makes the 1989 tour so unique? Maybe her surprise special guests. Taylor Swift brought out Alessia Cara, best known for her hit song, "Here" and together the duo sang and strut the catwalk while the crowd roared in excitement. Junior, Gabbie Ragano says,"I had never heard Alessia Cara's song before, but I really liked it. I also really liked the setup of the act while they sang with their red solo cups, in mocking their party friends. It made it humorous." Being the last North American stop before Swift travels to China and Australia, and due to the Halloween convenience, Taylor needed a surprise guest suitable for the occasion that would wrap up her tour with a bang. Her choice? Broadway Legend and star of Frozen, Idina Menzel. The crowd was unanimously overjoyed with excitement and emotion, as a star as big as Menzel arose on stage. Together the two belted out Frozen's "Let it Go" while Taylor was dressed as Olaf and Idina as Elsa.
"The cold never bothered me anyway" *QUICK CHANGE* @idinamenzel #letitgo #1989TourTampa pic.twitter.com/Ua6JcGk8or

— Taylor Swift (@taylorswift13) November 1, 2015
Closing the night with "Shake it Off", there is no doubt, Taylor Swift proved she is a phenomenal performer . With artistic skills so strong,  it is conceivable that even a non-fan of Taylor could attend one of her concerts and still have a rockin' time. Junior, Olivia Stevens states, "Taylor Swift is a truly unique performer and she takes each concert as an experience.She takes moments to step back and appreciate what she has and the fans that support her by constantly thanking us for being there."
@taylorswift13 come and be my best friend pic.twitter.com/tgJn4OSTcE

— Maria Cacciatore (@marcacc_) November 1, 2015
How many AHN girls were here with me? Remember, girls are powerful when they support each other!! #1989TourTampa pic.twitter.com/Za4tF4cMkx

— Melissa LeBlanc (@LeBlanc_Eng) November 1, 2015