2016 World Tour Previews (QUIZ)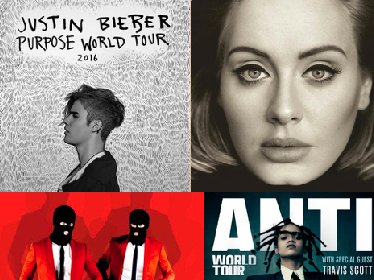 2015 was a huge year for music, from Adele's & Justin Bieber's new albums, the announcement of 1D's hiatus, and more. Coming out of 2015 and into 2016, 2016 is predicted to be a huge year for touring; from pop to rap to country to alternative, all the following artist are touring in 2016 and will be making stops in Florida.
Rihanna
Rihanna's Anti World tour will kick off February 26, 2016 in San Diego, California and will continue through 67 countries and finally end on August 12, 2016 in Switzerland. The tour will be Rihanna's seventh headlining tour and will be in support of her eighth studio album, Anti. The artist will be making a stop at Tampa's Amalie Arena on March 13, 2016.
Adele
After years of writing and childbirth, Adele is making her tour comeback with Adele Live 2016. This tour is Adele's third tour in support of her third studio album 25. The tour will begin on  February 29, 2016, in Ireland. The tour is planned to travel across Europe and North America will continue throughout Europe and North America with a total of 105 shows before concluding on  November 15, 2016 in Mexico City. Unfortunately, the closest show the artist will be playing is Miami's American Airline Arena on October 25 & 26, 2016.
Sophomore Feraby Hoffman shared, "Hello is now my anthem; I love how she made such a huge comeback with only one song, and then dropped an album. It's like she never left."
Adele's tour starts soon. What exactly do you do at her concert? Do you dance? Do you cry? A bit of both?

— Federiko Raívan (@FederiKoRaivan) January 9, 2016
Ellie Goulding
The Delirium World Tour will be the artist third world tour in support of her new album Delirium. The tour starts on January 21, 2016 in Germany and will continue until June 21, 2016 in Latvia. This tour will be Goulding's first headline tour in the United States. Goulding will be making a stop at Tampa's Amalie Arena on June 2, 2016.
Senior Eva Prendergast shares, "Yeah, she [Goulding] has a few great hits, but this tour goes to prove that sometimes the opening acts can be better than the headliner. If I were to go to her show in Tampa, I would be going for the openers, Years & Years."
Justin Bieber
After going off the rails the past couple of years, and releasing new material here and there, Bieber will be performing 111 shows on his third world tour. The Purpose World Tour will be in support of his fourth album, Purpose. This tour, without a doubt, is the most anticipated tour of 2016. Although Bieber will not be playing Tampa this tour, he will be playing an hour and a half away in Orlando on June 30, 2016.
Sophomore Gillian Garcia shared, "I've been a Bieber fan since 2010 and Justin  just gets better and better with each album and tour and I can not wait to see how he tops his last tour."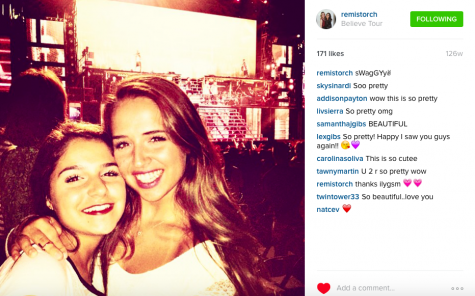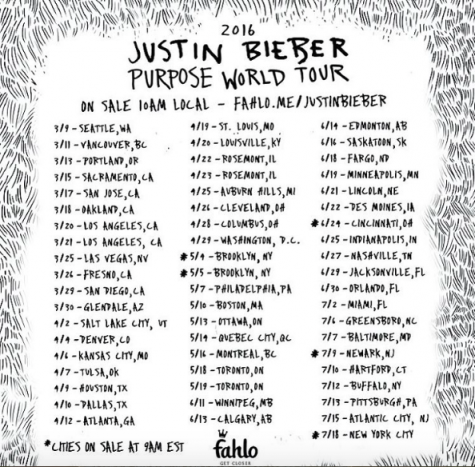 5 Seconds of Summer
The four Aussie boys of 5SOS started off touring with One Direction back in 2012, but will be headlining their second world tour, Sounds Live Feels Live, in support of their second album Sounds Good Feels Good. The tour consists of 99 shows, starting in Japan on February 19, 2016 and ending in Australia on March 27, 2016. The Aussie boys will be making one stop in Florida. If you are willing to make the drive, they will be playing Jacksonville Veterans Memorial Arena on July 20, 2016.
Junior Olivia Stevens shared, "I'm such a geek for boy bands and 5SOS isn't an exception. After seeing them on their last tour in Tampa, I was angry to see that their only making one stop in Florida and its 4 hours away. Hoping and praying I'm able to go now since One Direction is on a break, I need my dose of a foreign boy band concert."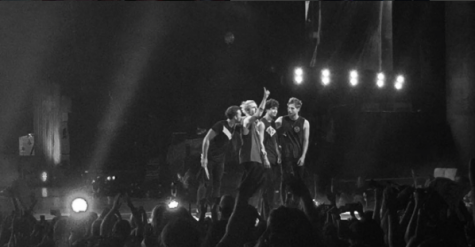 Troye Sivan
20 year old Troye Sivan will the touring around the world on his second headlining tour, the Blue Neighbourhood Tour. The tour is in support of his debut studio album Blue Neighbourhood. The tour will begin on January 11, 2016 in Australia and will end on May 20, 2016 Sweden. The young artist's hit song "YOUTH" has taken the radio by storm and has earned him a spot as a respectable alternative pop artist. The artist will be playing a show in Orlando on March 12, 2016.
Twenty One Pilots
The pop duo behind the hit songs "Tear in My Heart" & "Stressed out" will be kicking of their second headline tour, the Emøtiønal Røadshøw. The tour is in support of their second album, Blurryface. The US leg of the tour will be kicking of on May 31, 2016 in Ohio and will end on August 8, 2016 in New York.
Junior Grace Neal shared, "I've already since them once this year and I can't wait to see them again over summer. They are one of those bands that get better with every album & tour." The duo will be making a stop in Orlando on July 1, 2016.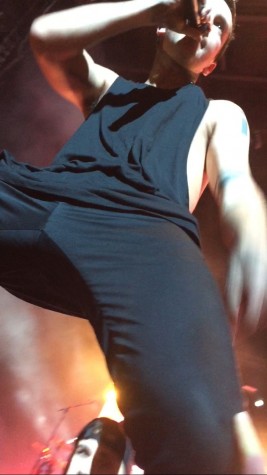 Whether you're a huge fan of one of the bands above, not to familiar with them, or torn on which you want to go to, take this quiz to find out which 2016 World Tour you should go to!