Bachelor Premiere 2016
The new season of The Bachelor premiered January 5, 2016. It follows Ben Higgins, who has another shot at finding love after being dumped by the last bachelorette, Kaitlyn Bristowe. Higgins gets the pleasure of meeting 28 new women and potentially finding love.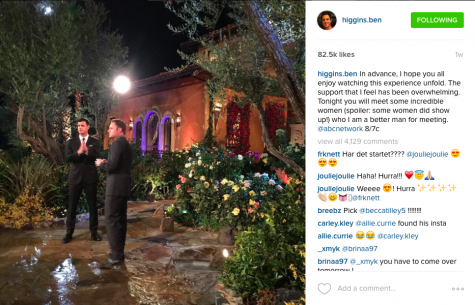 Season 20 immediately started off with drama and tears. Multiple women attempted to stand out to Ben through their strange and out of the box arrivals. There were hoverboards, horses, and onesies, not to mention Mandy arriving as the "first impression rose."
"If I was ever on the show, I could never embarrass myself like that, I would stick to a basic entrance and hope for the best" says junior, Bella Guerra.
Although there were multiple memorable arrivals, the first impression rose went to Olivia, who is a news anchor from Texas. She kept her conversation with Ben short and sweet, obviously sticking out to him.
"I was totally rooting for Olivia when I was watching the show. She seems perfect for Ben and I think she will end up being his wife" says sophomore, Kathrine Hahn.
After the rose ceremony, Lace decided to give Ben a piece of her mind saying "I feel like you didn't look at me once during the whole thing." Ben later stated that he gave her a rose and didn't see the big deal.
Senior, Natalie Cevallos admits "I liked Lace in the beginning, then by the end she became a total freak and I think she scared Ben away."
Regardless of her weird antics, Lace still remains on the show. Take this twitter poll to vote on when you think Lace will be voted off. 
How much longer do you think Lace will last on the Batchelor?

— Achona (@AchonaOnline) January 12, 2016
The list of girls eliminated thus far:
Lauren Russell
Tiara Soleim
Isabel Goodkind
Laura Esselman
Breanne Rice
Maegan Miller
Jessica Moser
The Bachelor airs Tuesday nights at 8:00pm on ABC