Livin' La Pura Vida
Pura Vida is a company that was formed back in 2011 when two college students, Griffin Thall and Paul Goodman, took a trip to Costa Rica and came back with bracelets that they believed embodied the simplicity of Costa Rica. Little did they know, their company would become a household name.
Pura Vida states, "'Pura Vida' is Spanish for 'pure life', a Costa Rican philosophy that encourages the appreciation of life's simple treasures. Slowing things down, celebrating good fortune, and refusing to take anything for granted embodies this laidback lifestyle. 'Pura Vida' means choosing to live life to the fullest. It's more than just a saying… it's a lifestyle."
Every single Pura Vida Bracelet is handcrafted by artisans in Costa Rica that provides them with a full-time job. Each bracelet is handcrafted, and is as unique as the person wearing it.
I've been wearing Pura Vida Bracelets for years now, and at the beginning of the year, I wanted to get involved with a jewelry company with a charity aspect. Finally in February I decided to apply to become a campus rep for the company at Ole Miss. A month later, I received a personal welcome packet in the mail.
https://www.instagram.com/p/BDlpw53EqzY/?taken-by=el.viv
Inside the welcome kit, I got my own rep code, "ElleVivero20". People can use this code to receive 20% off their order, postcards, stickers, and five free bracelets. Being a part of this awesome company has helped me live the Pura Vida motto and just 'live simply.' Another aspect of the company that I love is that each bracelet purchased goes towards different charities and causes.
Senior Veronica Sanchez shared, "I like Pura Vida best because they aren't in it for the money, but the causes. My first bracelet was a Lung Cancer one in honor of my Abuelo who lost his fight to it and I wear it everyday on my ankle in remembrance of him and it makes me so happy that the money I spent on it went toward to fight lung cancer and Costa Rican artisans."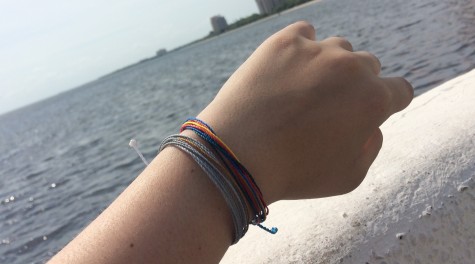 Bracelets start at only $5, and are great way's to support your favorite charity or just to rock fun colors and awesome bracelets on your wrist.  If you are interested in being a campus rep for Pura Vida CLICK HERE to apply.