10 Reactions to Finishing Stranger Things
Stranger Things is the new summer show that has swept the nation. The Stephen King inspired drama has received mixed reactions from everyone who has watched it. The ending of the eight- episode season leaves viewers on the edge of their seats, speculating about different theories before the announcement of season two.
There are so many things that make this show different from others on the air, yet ironically it is inspired by many honored 80s movies. There are references to Alien, ET, Stand By Me, Close Encounters, Star Wars, The Goonies, and Poltergeist. For the most part, everyone that has binged watched Stranger Things has come out with varying opinions and goes through a range of emotions.
1. WHEN IS SEASON TWO I NEED MORE
Everyone is ready for what the Duffer Brothers have up their sleeves next.
"The ending left a lot of unanswered questions," explained Senior Danielle Gutierrez when asked about the finale. "They can definitely stretch the show into another season."
Junior Julia Lee felt shocked, angry, and confused after finishing the first season that left her wanting more of the show.
2. The character development of this show is amazing.
Several of the characters go through dramatic character transformation, whether through their own decision, or outside influences. Mike, Lucas, and Dustin are doing their best to bring Will back home and will do anything to save him. In the end, they do reunite with their best friend but at the cost of another. The main character, Eleven, wrestles with the struggles of beauty, identity, trust, and friendship. 
English teacher Melissa LeBlanc explained "Her inner conflict has yet to be discovered in the sense that we don't know where she came from or how she got her powers." Leblanc also added that Eleven faces issues with her lack of communication skills, because she can't articulate her feelings. Eleven eventually learns to trust her friends, and her sacrifice symbolizes how her character development has come full circle.
3. Eleven is the queen. She deserves all the Eggos in the world.
Eleven is one of the main discoveries Will, Dustin, and Lucas make in search for their best friend Will. She has been through several obstacles and makes sacrifices for the ones she loves and has amazing supernatural abilities. It is also believed that there is a connection between Eleven and Hopper, many believing he is her father. 
Leila Zupsic, a senior who recently finished the series, remarked "At first I thought she was cute, but then I realized how strong she is and I fell in love with her ever more."
4. This show stands apart from the crowd because the main actors are kids and not teenagers.
The four friends, just trying to make it through middle school, have to deal with unspeakable obstacles in the show. The adolescent characters give the beginning of the show a feeling of innocence and nostalgia, opening episode one with them playing Dungeons and Dragons. The game foreshadows the plot line as Will has to decide which move to make when faced with the Demogorgon, a dangerous monster in Dungeons and Dragons. Part of this innocence is soon lost as their worst nightmares come to life and they meet new intimidating foes. The series even incorporates a love triangle which peaks the interest of those who seek romantic conflict. The teenage love triangle compliments the main plot line, even though audiences are anxious to see whether Nancy will pick Jonathan or Steve. The child actors surpass the talent abilities of many adult stars in film and TV.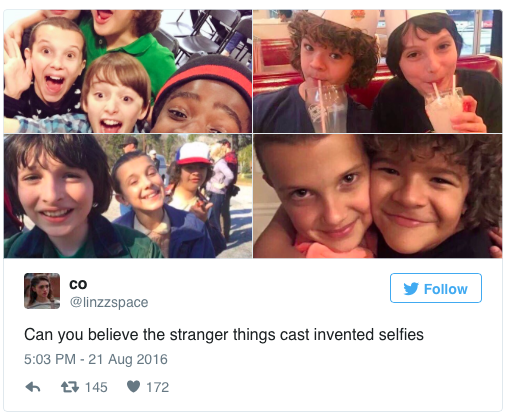 Teresa Toranzo talked endlessly about the actors: "The kids were the cutest thing ever. Eleven and Dustin are absolutely precious."
5. WHO CAN I TELL ABOUT THIS?!
It's a natural reaction to share how amazing a show is in order for it to become more popular and share in their reactions.
6. OMG what if they do an American Horror Story theme and change the plot every time?!
The finale left everyone wanting more, but some suspect that the plot will change every time. Many speculations state that The Duffer Brothers will pick up American Horror Story's motif and keeps the same characters, but change the theme. If not, what will happen?
Senior, Danielle Guttierez, grappled with the future of Stranger Things, stating, "I think they are definitely going to change things up a lot and there will  be a whole new antagonist."  
7. Feeling nostalgic for the 80's now
Stranger Things is a love letter to the time when "Should I Stay or Should I Go" by The Clash was a top hit on the radio and the US government keep one too many secrets from the public. It had many yearning for a time when Dungeons and Dragons was popular. The Duffer Brothers even cast Winona Ryder, one of the most notorious 80s and 90s actresses, to play a lead role and bring in a wider audience.  
8. Why are there only 8 episodes? Usually Netflix Originals have 12 or 22 episodes?
Stranger Things is unique, because it composes many different stories into one original show. According to Vox Culture, the actors are able to keep their own identities and plot lines that beautifully wrap up the story line and left the audience in awe. The Duffer Brothers created a compelling, yet nerve racking, original show in the span of only eight episodes.
9. When can I carve time out of my schedule to watch this again?
It is only eight episodes, so it won't take too long to rewatch everything.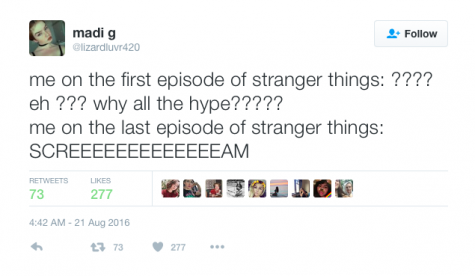 10. ALL HAIL THE DUFFER BROTHERS
BLESS THESE MEN FOR CREATING STRANGER THINGS.
Netflix presented the world with a supernatural phenomenon. No one predicted that it would have a cult following or become the third highest grossing Netflix Original, in front of Making a Murderer and Unbreakable Kimmy Schmidt. The popularity and growth of Stranger Things can only grow from here. Here's to hoping season two will be even stranger.
UPDATE: STRANGER THINGS WAS RENEWED FOR SEASON 2 ON AUGUST 31