Makeup-less Alicia Keys Shocks at the VMAs
ICYMI: Singer Alicia Keys made a statement at the 2016 VMA's, not by what she was wearing, but by what she is not wearing. Keys stunned on the red carpet in a Just Cavalli gown with her hair in an elaborate updo… and no makeup. Needless to say, the internet responded with mixed emotions.
An overarching amount of responses were criticizing Keys for her decision to attend the event with no effort shown in regard to makeup. Fans claimed that she was waging a war on makeup and that her alleged campaign of self-love backfired. People believed that if she was trying to express the idea that makeup is not necessary to be beautiful, she didn't successfully achieve this because the media and critics clouded her message with their responses of judgement.
Thank you to the #NoMakeup movement, allowing me to walk around looking like a troll while still being on trend.

— Women's Humor (@WomensHumor) September 1, 2016
A Washington Post article talks about Keys' intent for a positive message, but her poorly timed execution causing a stir within the popular culture community.
Junior Gillian Garcia comments "Keys wore no makeup to the DNC around a lot of powerful women, and that was perfect timing. It showed how fierce she could be… She sang 'Girl on Fire'!"
Other opinions are based on the idea that not wearing makeup isn't brave, it's just how she decided to attend this particular event. Suggestions on Twitter about how Keys could have otherwise started this "#nomakeupmovement" include social media campaigns and TV commercials.
On the contrary, Keys has also been highly praised for her "brave" action of going makeup free. Supporters claim that in the atmosphere of so many fellow celebrities, it had to be difficult for Keys to bare her natural face.
Y'all, me choosing to be makeup free doesn't mean I'm anti-makeup. Do you! ?? pic.twitter.com/Mg0Ug9YA9q

— Alicia Keys (@aliciakeys) August 29, 2016
Junior Neha Simon commented that she, "thinks it's such a good message that Alicia is sharing and people should pay attention to the positivity behind it, instead of criticizing her."
Alicia Keys inspire us with #NoMakeup: https://t.co/1zRakQHzn2 #VMA pic.twitter.com/bRKYymjxcn

— ESSENCE (@Essence) September 6, 2016
About the Writer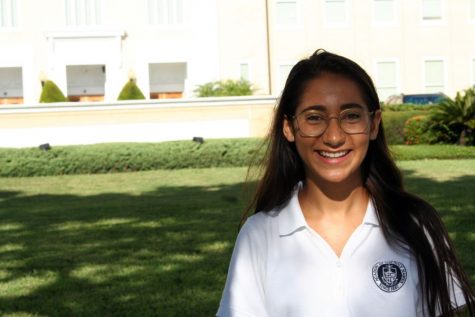 Audrey Anello, Senior Staff Writer
Senior Audrey Anello is a first year staff writer for Achona. Anello is enjoying the senior privileges Academy has to offer, especially the senior lounge...