The Odd Couple Will Bring Laughs in March
The Acting Advanced students have begun preparations for their performance of Neil Simon's The Odd Couple. The play centers around Florence Unger and Olive Madison, two mismatched friends, and their hilarious girlfriends, Mickey, Sylvie, Vera, and Renee. Together, they navigate the tricky world of careers, love life, and friendship. The original, male version of The Odd Couple is world renowned, with a film and TV series were created as spin offs.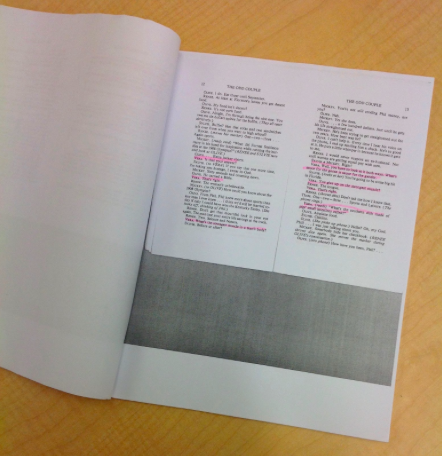 Along with the Acting Advanced students, such as Hanna Skelly and Sydney Beil, Director Vivian Kimbler cast additional actresses as supporting roles. AnnMarie Collins, Morgan Farrior, and Sara Phillips were given the opportunity to audition for the roles of Mickey, Sylvie, and Vera. In addition to these Academy students, Kimbler cast two male actors for the roles of Manolo and Jesus: Dakota Hawkins and Christian Rodriguez, both Bloomingdale High School students. The final cast list was announced on Tuesday, September 6.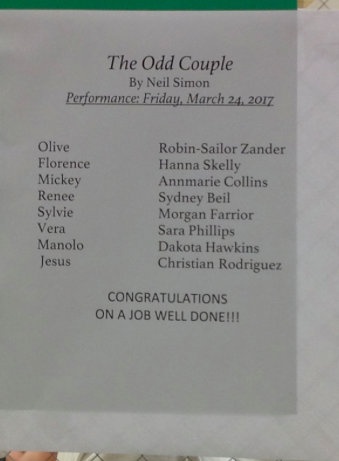 Sophomore, Robin-Sailor Zander, is enthusiastic for the production, revealing, "I'm excited to be one of the lead roles, Olive, because I've always looked up to Neil Simon's works. I think it will be really fun and people will like it!"
Kimbler is excited for the performance of "a classic comedy, written by one of the best playwrights of our time, Neil Simon," and she hopes that her Advanced Acting students will "develop a command of pacing and comedic timing and, most importantly, collaboration and a feel for ensemble acting!"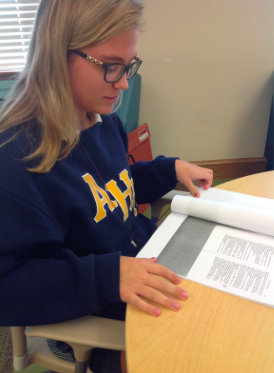 Tickets will go on sale February 1st, and can be purchased in advance for five dollars, or at the door for eight dollars. Ticket sales will end on March 22nd, and all proceeds will benefit the Theatre Department. The performance will be held in The Brady Center on Friday, March 24, 2017. Doors open at 6:30 pm and  curtain is at 7:00 pm!