Will Hamilton Survive its Loss of Original Cast Members?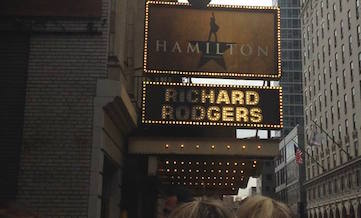 Some people love American History and some people don't. However, everyone knows who Alexander Hamilton is, and it's all because of Lin-Manuel Miranda. The big question is what will happen to the 2016 Tony Award winner for Best Musical now that the biggest names of the show are moving on to new projects. The most notable exit was that of the show's creator, Lin-Manuel Miranda whose last performance was July 9.
 Hamilton is a popular show on Broadway and a person looking for tickets is more likely to win the lottery than get decently priced tickets anytime soon. Actual retail to the show isn't any more expensive than any other show on Broadway, but because of the high demand, people are reselling them for more than 4 times their worth. Dave Quinn from People commented, "all 1,319 seats in the Richard Rodgers Theatre are sold out completely through January 2017, with the current price for the 200 center orchestra premium seats at $849 – the most expensive ticket in Broadway history."
The next biggest problem fans run into is how much the show has changed and whether the new cast members can live up to the originals.
Some hardcore Hamilton fans like senior Jhuztin Honrado however, don't mind the change as much as others:"I'd still want to go see the show and see how it's changed and what the new actors bring to it. Any opportunity to go see Hamilton, I'll take it." 
Finally, the music. Everyone who knows about the recent changes made to the show knows that pretty much the entire soundtrack will sound different now that almost all of the original lead actors have left.
However, American History teacher Lori Kearney states, "Here's the thing, obviously Lin has done many Broadway shows, I saw In the Heights when he was in it. He's such a perfectionist that he won't throw just anyone in there. This is his baby."
Yes, it will sound different, but Miranda has made sure that the audience will be just as captivated with these new voices as with the old ones.
With its record-breaking 16 Tony nominations and 11 Tony awards, Hamilton has gone down as one of the most iconic and impactful shows in Broadway history.