Ben Platt Departs from Broadway Musical "Dear Evan Hansen"
December 1, 2017
Dear Evan Hansen, one of the most popular musicals on Broadway to date, recently made changes to the shows main company. The original cast consisted of Ben Platt, Rachel Bay Jones, Laura Dreyfuss, Jennifer Laura Thompson, Mike Faist, Michael Park, Will Roland, and Kristolyn Lloyd. However, on Nov. 19, 2017, Platt took his final bow. Taking his place is actor Noah Galvin, who is making his Broadway debut as the lead, Evan Hansen. Michael Lee Brown, an understudy for Platt and Galvin, also plays Evan in select shows.
The popular play originally made its debut at Washington D.C.'s Arena Stage in 2015. In December of 2016, Dear Evan Hansen opened on Broadway at Music Box Theatre. The musical won six Tony Awards, including Best Musical, Best Book of a Musical, Best Original Music, and Best Actor, which was given to the play's lead, Ben Platt.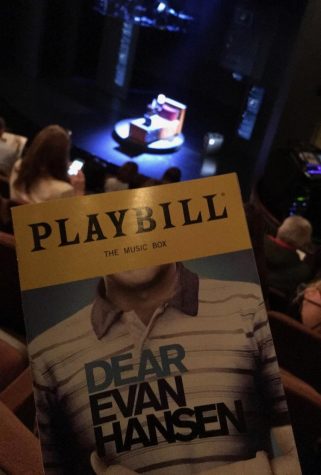 The musical follows the story of Evan Hansen, an unpopular high school senior with social anxiety. When Evan's therapy assignment ends up in the wrong hands, his entire life is thrown upside down. With various twist and turns throughout his own web of lies, Evan Hansen ends up with the perfect girl, popularity, and an ever loving family. However, as the truth comes out, he is left to deal with the consequences of his actions. The play deals with themes of grief, love, loneliness, and acceptance.   
Various Academy students have had to chance to watch the musical with different actors portraying Evan Hansen. Students noticed differences in each actor's portrayal of the main character.
Ben Platt 
Platt, who is 24, grew up in California and went on to attend Columbia University. After briefly attending the college, Platt left to perform as Elder Cunningham within The Book of Mormon. In addition to his well-known roles within Dear Evan Hansen and The Book of Mormon, Platt is recognized from the movies Pitch Perfect and Pitch Perfect 2 where he played Benji Applebaum.
Today is my last @DearEvanHansen performance, ending a 3.5 year journey with a remarkable family of artists. I am proud of all I gave & grateful for all I received.

I love you, Evan. You changed every part of my life. I'll carry you with me for the rest of my days.

Now, onward!

— Ben Platt (@BenSPLATT) November 19, 2017
Platt's development of Evan's character made it easy for the audience to relate to the personality he portrayed. The nervous tics and mannerisms Platt chose clearly expressed the mental and emotional state of Evan Hansen, as well as his progress throughout the play.
In addition, Platt's powerful performance visibly affected the show's audience. Throughout the play's abundant climatic moments, audience members could be seen crying and heard sniffling. In addition to the audience's emotions, Platt had to maintain his own ability to hit challenging notes in the midst of displaying Evan's own emotions. However, Platt's voice never faltered throughout the entirety of the show.
Julia Barreto ('18) said, "Ben Platt did a phenomenal job playing Evan. He was very convincing. I felt like his relationship with Laura [who plays Zoe] and the other characters was really believable. I think that is partially because they had three and a half years to develop the show. Usually, when you go into a show, it is hard to have a connection like that. This connection was very raw."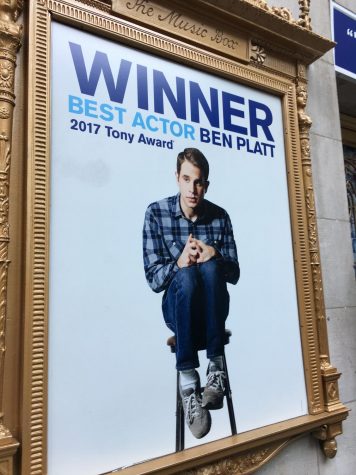 Michael Lee Brown 
Brown continues to be the main understudy for Evan Hansen. Along with playing the role of Evan, he also performs as the characters Connor Murphy and Jared Kleinman. The understudy took the stage more frequently in Platt's final weeks.
Had an amazing week playing Evan Hansen! I love this cast and show. Thank you everyone near and far for the love and support. It means a lot pic.twitter.com/sUM1Reg02x

— Michael Lee Brown (@HeyMichaelLeeB) August 18, 2017
Although he has worked closely alongside Platt, Brown brings his own touch to Evan's character. Brown uses mannerisms and nervous tics to develop Evan's character that differ from those used by Platt. In addition, Brown's strong voice and acting skills make an impact on the audience that is equivalent to Platt's performance. During certain songs, Brown focuses more on expressing the emotions behind the music; therefore, the audience is able to understand the extent of the character's emotions.
Isabella Ferrie ('21) said, "I thought Michael's performance was really interesting because I was able to see the different ways he developed the character compared to Ben Platt. I thought his voice was very strong, and I was surprised by how much I enjoyed his performance after seeing Ben Platt."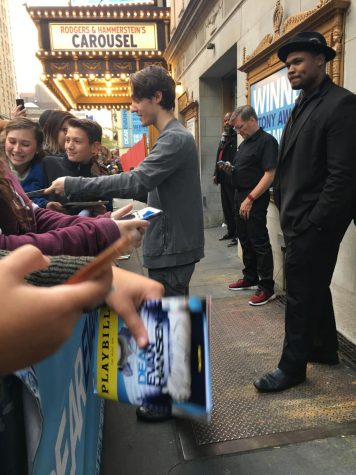 Noah Galvin
Galvin is a 23 year old actor born and raised in New York. Along with Dear Evan Hansen, he also starred in the TV series, The Real O'neals. During Galvin's first week performing as Evan Hansen, the musical broke the box office record at the Music Box Theatre.
👕👕 #PassingOfThePolo pic.twitter.com/uhY6MFnVRv

— Dear Evan Hansen (@DearEvanHansen) October 25, 2017
Rather than imitating the character Platt developed, Galvin has chosen to add his own touch to the role of Evan. His portrayal resulted in many differences compared to the original, the most noticeable was how he performed the songs. He spoke many of the lyrics and incorporated more emotions into the performance. At the end of the play, it was evident that Galvin had left the audience with a powerful and heartfelt message.
Galvin also performed at the Macy's Thanksgiving Day Parade, along with the original cast of the broadway show.
Despite the positive reviews, some students have expressed negative opinions about the broadway show.
Hannah Traud ('20) said, "I watched a video of Noah Galvin singing the song "Waving Through a Window," and he sounded much different then he did at the Macy's Thanksgiving Day parade. His voice wasn't as stable and as strong as it could have been, considering he is the lead of the play. He is just not my favorite person that I have seen in that role."
Currently, the play is performed exclusively at the Music Box Theatre. However, the show announced its National Tour starting in May 2018.