"Unplugged Vocal Performances" showcases the Vocal Talents of Academy Students
January 18, 2018
On January 12, 2018 at 7 p.m. in the Scarpo Family Theatre, an event called "Unplugged Vocal Performances" provided a chance for all students at AHN to showcase their talent. This year the student in charge of "Unplugged Vocal Performances" was Julia Barreto.
Barretto ('18) says, "This is our first year doing this, I wanted to be able to showcase student talent, without it being a competition. I performed 'Rather Be', an arrangement by Jasmine Thompson."
In total there were 14 performances.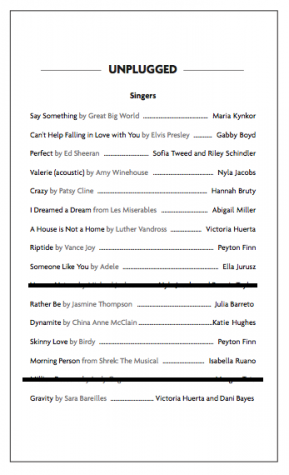 "I performed "Someone Like You" by Adele, it is one of my favorite songs to sing, says Ella Jurusz ('19).
Peyton Finn ('20) says, "This was my first performance at Academy, and I performed "Riptide" by Vance Joy and "Skinny Love" by Birdy. I was really excited to perform, and it ended up being really fun." 
Riley Schindler ('20) says, "I am part of the Quarter Notes, so I am used to singing on a stage. I performed "Perfect" by Ed Sheeran with my friend, Sophia Tweed."