"Knock Down the House" Review – Alexandria Ocasio-Cortez's Popularity in Politics
May 14, 2019
"If I were, like, a normal, rational person, I would have dropped out of this race a long time ago," says U.S. House Representative Alexandria Ocasio-Cortez in the opening scene of the trailer "Knock Down the House."
While she has gained the fame of millions of supporters, interviews, and Instagram followers, the documentary focuses on the time before AOC was in the public eye.
The film was first shown during the 2019 Sundance Film Festival on January 27. It was later released by Netflix on May 1. 
The documentary, directed by Rachel Lears, follows four women challenging their established Democratic representatives in the 2018 midterm elections. While the story is not solely based around AOC, she certainly is the star. This makes sense, considering her current fame as well as how she was the only one out of the four to win the election.
"I like how it's centered around this one politician, but there is a greater story behind it, one that deals with working class families and minorities and women in Congress. It looks like it does a good job of having that front like perspective while also depicting the larger fight," says Alexa Fredericks ('20).
"Knock Down the House" opens with a shot of AOC talking about the beauty standards of female politicians while applying makeup in her bathroom mirror. She then turns and says to the camera, "How do you prepare for something you don't know is coming?"
The question obviously foreshadows AOC's victory, as well as her soon to be ground breaking moves in congress. However, the documentary touches little on her present and focuses mainly on her past.
"
How do you prepare for something you don't know is coming?
— Alexandria Ocasio-Cortez
At the time it was filmed, Ocasio-Cortez was challenging Representative Joe Crowley, who was then the fourth most powerful Democrat in congress. He had not faced an opponent for 14 years.
Throughout her campaign successes and struggles, the film flashes to three candidates who were also recruited by Brand New Congress.
In the 2018 midterm election, more women than ever ran for office. Among them were Paula Jean Swearengin, Cori Bush, Amy Vilela, and of course Alexandria Ocasio-Cortez
Swearengin, a coal miner's daughter of West Virginia, ran against Senator Joe Manchin. Bush, an African-American nurse competed for the St. Louis House seat. Lastly, Vilela ran for the House seat of Nevada's District 4.
I don't think I've related to a sentiment more than this @coribush. What a breath of fresh air to hear and see a woman like this on my screen. ❤️

Have you been watching #KnockDownTheHouse? It's on @netflix right now. pic.twitter.com/7ddZYpxklR

— Strong Black Lead (@strongblacklead) May 13, 2019
"I'm not too well acquainted with 'Knock Down the House,' but I have it in my queue to watch eventually. I'm happy to see that women in politics are finally getting the recognition they deserve. Documentaries like 'RBG' and 'Knock Down the House' are bringing these important, influential women into the limelight where they belong," says Caroline Lamoureux ('20).
Each woman was running for a purpose. Swearengin hoped to free her small town from the large corporation destroying the land and causing medical issues among citizens. Bush decided to run after after witnessing the 2014 Ferguson protests. Vilela ran for her daughter who died of preventable causes because she did not have health insurance.
"We wanted to follow the transformations of regular people into viable candidates for federal office," says director Lears to the Washington Post. "We thought the idea of recruiting and training ordinary working people with extraordinary records of integrity and service in their communities — building a new path to Congress for them — would be really interesting to witness."
Yet, the film opens and closes with Ocasio-Cortez. This leads to the question: why is AOC so popular?
As the youngest woman to ever be elected to the House at 29, AOC has been making big waves among both her liberal supporters and conservative opponents. AOC's fanbase as well as her critics can be seen all over social media in the form of tweets, posts, fan-art, and even comic books.
"Alexandria Ocasio-Cortez as a Super Hero? This Comic Book Thinks So" by GEORGE GENE GUSTINES via NYT https://t.co/6L9yb9KxRu pic.twitter.com/X7egPKjMRS

— News & Arts™ (@newslarts) May 13, 2019
"I love her. Literally worship the ground she walks on. What I like about her, and I know everybody says this, is how young she is. Her age allows her to be more open to change and less conservative. She is also always looking for new and innovative ways to fix old problems," says Tress Jacobs ('20).
She also isn't shy. Just as Donald Trump is infamously known for tweeting, AOC also utilizes social media to spark attention. Ocasio-Cortez regularly vlogs herself through Instagram stories and live streams. She talks about politics and policies while cooking, gardening, or even assembling Ikea furniture.
"Her popularity among young people is a good thing because hopefully it will motivate younger generations to be more involved in politics and local government. I think that younger people of all walks of life can be inspired by her story," says Emara Saez ('21).
AOC represents a new generation who has yet to be recognized in politics. She is a young woman of color, avid supporter of healthcare and environmental protection, and an outspoken critic of Donald Trump.
While it seems as if AOC would only gain attention among liberals, her name is easily recognized by conservatives as well; however, in a completly different limelight. For example, the Washington Post describes her as a "liberal phenomenon" while Fox News describes her as a monster that will "take away your hamburgers."
A study conducted by the organization Media Matters found that AOC was mentioned 3,181 times on Fox News Channel and its sister Fox Business Network during the six-week period of February 25 to April 7. That amounts to around 76 times per day.
Many feel that AOC's popularity stems from her relatability. A working class waitress turned politician who still holds true to her humours personality. One of the documentary's ending scenes, AOC learning of her own victory, shows it all.
"My favorite part of the documentary was when AOC walked into her campaign party and found out she had won the election. It was so cool to have that very moment documented," says Saez.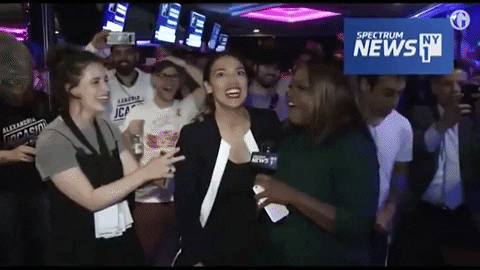 Footage of AOC's personality and heart are featured throughout the entire film. For example, the audience watches Ocasio-Cortez performing in her piano recital as a child. There are scenes of her joking with her boyfriend and hugging her mom; all of which add to the personal and relatable feeling her supporters love.
Carina Chocano of the New York Times writes, "The congresswoman has become a handy and versatile symbol — the representative representative. For the leftward and younger wings of the Democratic Party, she serves as a figurehead and a hero; for conservative media outlets, as reliable outrage bait. Everyone seems willing to let her be a lightning rod — including, notably, Ocasio-Cortez herself."
Regardless of her claim to fame, Alexandria Ocasio-Cortez will continue to be a leading inspiration in this modern era of politics. Young women of both the Democratic and Republican parties can look up to her story and know that they too can knock down the house.
"I thought knock down the house was an amazing and inspirational movie. It showed that any normal citizen can run for office and have a say in the direction that this country goes in," says Haiqa Mian (A'18).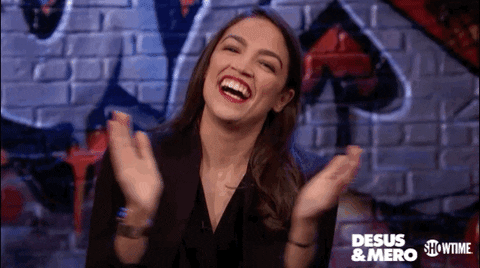 Watch "Knock Down the House" here.